Paul Rudd And Joseph Gordon-Levitt In The Running For 'Ant-Man' Role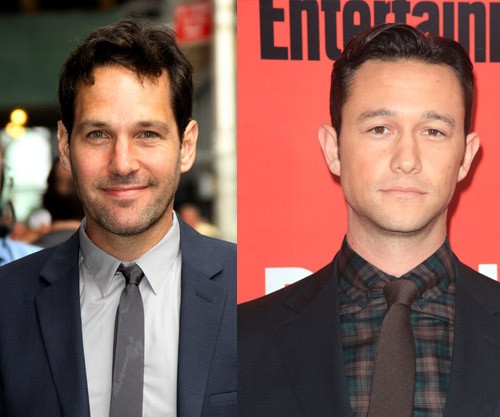 Edgar Wright is eying two A-list actors to play the lead role in his upcoming superhero flick Ant-Man. The movie, which recently had its release date moved up from November to July 2015, is reportedly eying Joseph Gordon-Levitt and Paul Rudd to play lead role Henry Pym.
Variety has sources that claim Paul and Joseph have emerged to play the scientist-turned-superhero, and are expected to meet with Marvel and director Wright before a casting choice is made. The source also reported a third actor could get a chance, but named no names.
The role would be Gordon-Levitt's third comic book role after his appearance in The Dark Knight Rises and the upcoming Sin City: A Dame to Kill For. Paul Rudd hasn't jumped on the comic book movie bandwagon just yet.
Ant-Man is the story of Dr. Henry Pym, who discovers a substance that allows him to alter his size without robbing him of his full-size strength. His powers were on display in a recent tease from Wright, showing Ant-Man jumping into a man's mouth and knocking him out with a punch.
In the comics, Pym's discovery is stolen by a man named Scott Lang. Lang later joins the Avengers after Pym encourages him to take over. This storyline had fans salivating over two lead actors, but it appears Wright will be focusing his film on just Pym. The Avengers: Age of Ultron director Joss Whedon revealed Pym won't be Ultron's creator, as he was in the comics. He instead described Ant-Man as a standalone adventure without any particular ties to the Avengers or their new foe.
Update: Gordon-Levitt responded to the story, telling the French Huffington Post, "There are always a lot of rumors around these projects and so far it is still only discussions. I am always very transparent when it comes to my role and my career. I'm Usually the first to speak and communicate with my fans if something happens. If you hear nothing from me, they are just rumors. "