Paul Michael Glaser: 'I Fear For My Safety'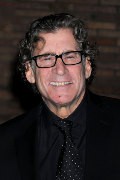 Starsky And Hutch star Paul Michael Glaser has applied for a restraining order against a woman who has left him fearing for his safety.

The actor, who played Detective David Starsky in the classic 1970s cop series, filed papers at Los Angeles County Superior Court last week alleging a woman who used to run his official website is obsessed with him.

Glaser claims the unidentified female has sent him more than 500 emails over the last two years in which she exhibits "both a rational and very irrational side."

The 68 year old has asked a judge to ban the woman from coming within 200 yards of him.

In legal documents obtained by TMZ.com, Glaser states, "I am about to start a tour with my book, and given (the woman's) behavior, I fear for my safety."