Paul McCartney's 'Ocean's Kingdom' Ballet Premieres In NYC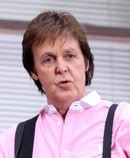 Paul McCartney premiered his ballet with a performance in New York on Thursday night in front of a star-studded audience.

The Beatles legend wrote the score for the New York City Ballet's Ocean's Kingdom, marking his first foray into the world of classical dance scores, and his fashion designer daughter Stella looked after the costumes.

McCartney was in attendance with his fiancee Nancy Shevell as the curtain went up on the production at Manhattan's Lincoln Center and the audience was packed with famous faces including Sarah Jessica Parker, Liv Tyler, Anjelica Huston, Alec Baldwin, Jon Bon Jovi and Naomi Watts.

Speaking prior to the performance, McCartney told the Associated Press, "Trying to write something that expressed an emotion was very interesting - so you have fear, love, anger, sadness to play with, and I found that very interesting and challenging but great - I'm really glad I accepted."
Win a copy of McCartney's score for "Ocean's Kingdom" on CD, right here on Starpulse!