Paul McCartney, Natalie Portman And Morrissey To Grace PETA Stamps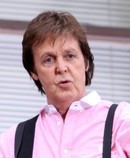 Paul McCartney, Natalie Portman and Morrissey are among the famous faces who will adorn a set of U.S. postage stamps in the name of vegetarianism.

Executives at People for the Ethical Treatment of Animals (PETA) have picked their top 20 most famous vegetarians of all time to appear on a new series of stamps set for release in the U.S. this week.

Other stars to be included are Chrissie Hynde, Joan Jett, Pamela Anderson, Bryan Adams, Woody Harrelson, Russell Simmons and Leona Lewis, along with historical figures such as Gandhi, Leonardo da Vinci and Leo Tolstoy.

Lisa Lange, vice president of PETA, says, "These are very influential people, and not everyone knows that these folks are vegetarian. It's just another way to be able to talk about what animals go through in slaughterhouses."

A PETA spokesman adds, "The whole point is to show how many cultural icons around the world have been shunning meat for centuries."