Patton Oswalt Pitches 'Star Wars: Episode VII' Plot During Cut 'Parks And Recreation' Filibuster Scene (Watch It)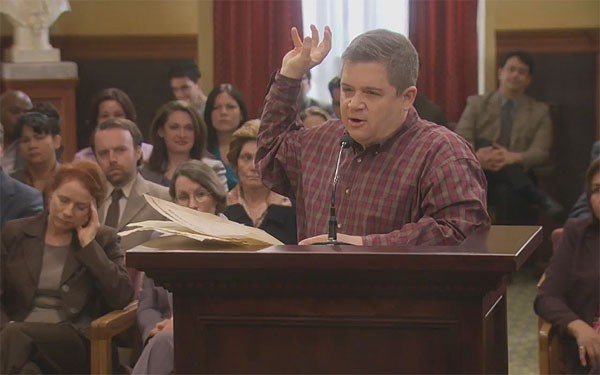 Patton Oswalt delivered a hilarious take on U.S. Senator Rand Paul's March filibuster for Thursday night's episode of Parks and Recreation -- but you won't see the scene on television.

Oswalt was asked by the show's producers to "ramble a bit about whatever subject he wanted" while filming a scene in which he takes the podium at a Pawnee City Council meeting in order to filibuster their vote.

The comedian took them up on their offer and went into an 8+ minute rant about what Disney, who acquired Lucasfilm late last year, should do for the plot of the next Star Wars movie.

Oswalt's rant is epic -- and so are his ideas for Star Wars: Episode VII, which is due in theaters in 2015.

The star has had a busy week. The comedian was praised for his heartfelt Facebook tribute to the first responders in Boston who rushed to help the injured in the wake of Monday's Marathon bombings, named the host of the 2013 Webby Awards (May 22) and played the Penguin in an online Batman spoof for College Humor.

Parks and Recreation airs Thursday nights at 9:30/8:30c on NBC. Check out his Star Wars filibuster below...