Patrick Wilson Recruits Brothers To Form Van Halen Cover Band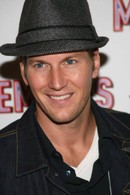 Actor Patrick Wilson has teamed up with his brothers to form a Van Halen tribute band.

The Watchmen star is such a big fan of the rock group, he recruited his musically-inclined siblings to take up guitar so they could perform at fundraisers and parties as Van Wilson.

He tells People magazine, "It's always been this hilarious passion."

And Wilson's two children with actress wife Dagmara Dominczyk love his new gig.

He adds, "I tell my wife, 'You don't have to stay the whole time.' At the end of the night, she's still there! And my sons like seeing Daddy, Uncle Paul and Uncle Mark act like children. We love it."