Patrick Stewart Teaches Girlfriend Sunny Ozell How To Perform A 'Quadruple Take'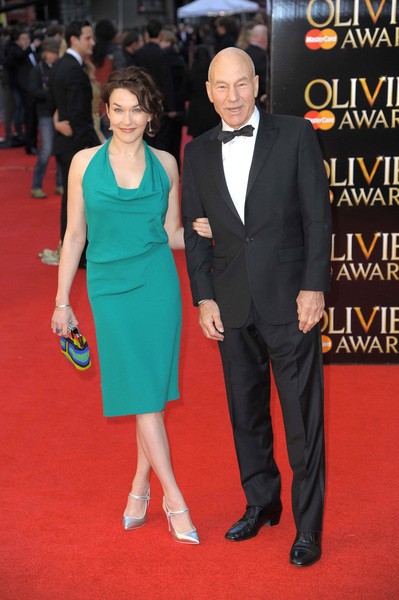 Venerable actor Patrick Stewart has bestowed the knowledge of the secret art of the quadruple take to jazz singer girlfriend Sunny Ozell.
Ozell uploaded a video of Stewart teaching her the acting technique; in the clip she has her feet resting on his shins as he sits and gives her the lesson.
With a wry smile he tells her to "hush, you are here to learn, not to talk," when she laughs. He continues, "What you have to understand about the quadruple take is it's not in the same style as the take, single or double take, right, it's a different style of physical comedy."
Using the phrase, "Our buns are the best," Stewart goes through the single, double, and triple takes. "The first three were based on truth, on naturalism, on spontaneous, naturalistic acting," Stewart explains.
The acting legend then reveals, "This - the quadruple take - is in a different category of acting altogether but it's the only one I know and you'll be glad to hear that I don't have anything beyond the quadruple take."
As for the quadruple take? Well, you'll just have to watch the video to find out what it is. The YouTube clip already has around 500,000 views since it was uploaded Tuesday.