Patrick Stewart, Ian McKellen Return In 'X-Men: Days Of Future Past'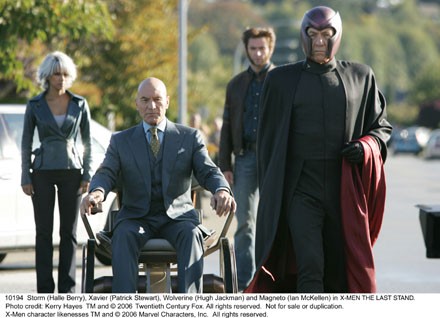 The next X-Men movie, X-Men: Days of Future Past, some old faces are returning after some time off. Patrick Stewart and Ian McKellen weren't in X-Men: First Class, as the film took place well before the original trilogy. However, both actors will appear in some fashion in the upcoming film, which takes place in present day as well as a dystopian future.
James McAvoy, Jennifer Lawrence, Michael Fassbender, and Nicholas Hoult also return from First Class to star in the new film. Director Bryan Singer confirmed the news via Twitter. "I'd like to officially welcome back James McAvoy, Jennifer Lawrence, Michael Fassbender, & Nicholas Hoult to #XMEN for #DaysOfFuturePast" he posted, followed by "Thrilled to announce @ianmckellen118 & @SirPatStew are joining the cast of #XMEN #DaysOfFuturePast #magneto #professorX More to come..."
In the comic version of the story, Wolverine protects Kitty Pryde in a dystopian future ruled by an anti-mutant government and Sentinels. Pryde uses her powers to possess herself in the past and warn the X-Men. Currently, Hugh Jackman has yet to be confirmed as Wolverine, despite his character's importance in the storyline - he just finished filming The Wolverine. Ellen Page played Pryde in X-Men: The Last Stand, but there has been no news of her casting, either.