Patrick Schwarzenegger Goes Shirtless On Sunset Blvd. Billboard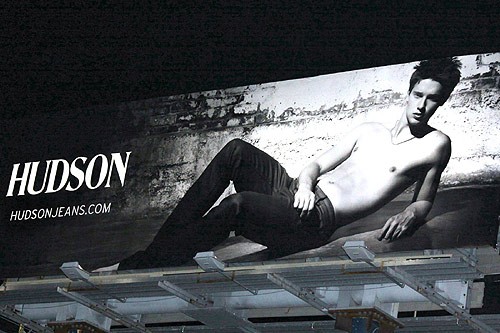 Arnold Schwarzenegger and Maria Shriver's eldest son, Patrick, was photographed bare-chested and wearing just a pair of jeans for a giant Hudson Jeans billboard on Sunset Boulevard in Hollywood.

The 17-year-old son of the troubled former Governor of California signed a contract with LA models and is seen promoting the clothier's fall collection.

Patrick may be modeling for now, but he's still got his priorities in order and is planning on heading off to college after high school.

Last week he tweeted, "Just visited Harvard university. Great college but I'm not adding it to the list. Stanford, USC, Penn, Georgetown are my tops for now."

And just what direction does he want to take with his college education?

He told the May issue of Details magazine, "My mom raised me with the idea of doing public service, and I definitely want to go in that direction. But I also want to follow in my dad's entrepreneurial footsteps."