Patrick Park Leads Curb Appeal Records' TV Takeover; New Track To Be Featured On Tonight's O.C. Finale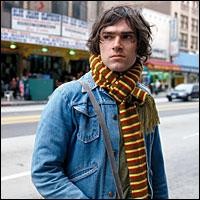 Over the course of the last few weeks, the newly formed Curb Appeal Records has added
Patrick Park
to its roster as well as landed three bands in high profile television placements.
On February 8, the trip-hop band
8MM
, had a song featured in
Grey's Anatomy
, one of the hottest shows on television, exposing the band to 20 million viewers. The entire song "Liar" played behind a climatic scene in
Grey's
complementing the band's previous placements on Road Rules and WB's hit show
One Tree Hill
.
The Blackpool Lights
have also confirmed a placement for their song "Crash Sounds" on One Tree Hill.
Also, Patrick Park, the Los Angeles based singer-songwriter, will be releasing the follow up to his acclaimed debut
Loneliness Knows My Name
on Curb Appeal Records. The final episode of
The O.C.
is set to use an unreleased Patrick Park song called, "Life is a Song," as the soundtrack to the end for the entire television series on February 22 (tonight). The song shows Patrick's thoughtful poetry and warm voice atop of gentle fingernail-strummed acoustic guitar chords and ambient piano. It is to be released on an iTunes only EP that includes two new acoustic songs.
More on Patrick Park:
Starpulse Feature Page
MySpace