Patrick Faucette Talks Surprises Of Tyler Perry's 'Haves And The Have Nots'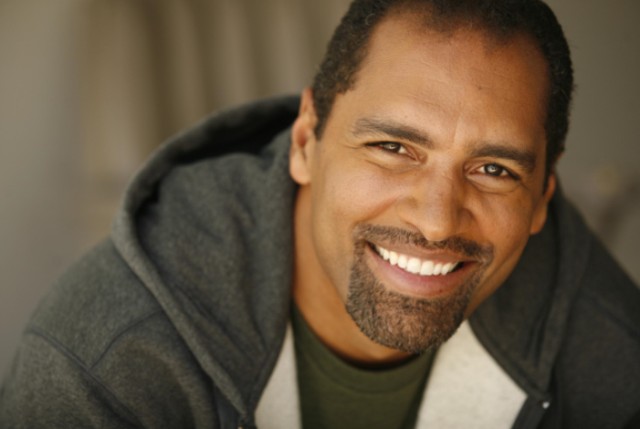 Imagine playing someone's long lost parent. Then imagine even you didn't know that secret! That's what happened to Patrick Faucette, who appears on OWN's Tyler Perry drama The Haves and Have Nots as Tony Watson, the absent father of Benny Young. Patrick recently chatted with BFTV to tell us how he found out about Tony's big reveal, and what it really means to work on a Tyler Perry project.
When he originally booked his guest stint on the show, Tony wasn't intended to be Benny's father. According to Patrick, that was a change that Tyler Perry himself came up with during filming. "When I got there, that's when they kind of changed it and made me his father," he explained with a laugh, "which was even more last minute preparation! But being a father, that kind of helps."
That's not to say he's complaining about the reveal; in fact, he was over the moon about the idea. "I was only supposed to be there one episode, and when Tyler Perry came in the middle of the scene and stopped us, and said 'I want you to be his father,' I was jumping up and down inside," he added. "That was kind of a big career moment."
With such juicy material, he's thoroughly enjoyed his time on the series. "I've been pretty happy with my stuff," he said. "My scene last week when I was in the jail, that was my big scene - [but] in the next two [episodes], there's big drama."
For audiences of color, there may not be a bigger name out there right now than that of Tyler Perry, the hyphenate who's done everything from create TV shows to star in movies. We asked Patrick if working for Perry is as big a deal as the buzz makes it out to be. "It doesn't feel like it when you're on the set. It's pretty down to earth," he told us. "He's a big deal, and he's a big guy; he's like 6'5". But when you're on the set, it's a total family atmosphere. Everyone's really cool."
After The Haves and the Have Nots takes a break in a few weeks, there are plenty of other projects that its viewers can check out Patrick in. "I did another project with John Schneider [who plays Jim Cryer]; I did the pilot of Hot In Cleveland. I was one of John Schneider's buddies," he said. "They can catch me in comedies. Get Walk Hard: The Dewey Cox Story; I'm in that. We're going to start shooting [Haves and Have Nots] again In October back in Atlanta. That's kind of what I've been gearing up for."
Among the other lines on Patrick's resume are a lot of smaller characters, ones who sometimes don't even get names. He's been "Cop" on Cougar Town, "Security Guard" on NCIS and "Lawyer" on 90210. So when he's got a role that isn't completely developed, does he fill in the blanks himself? "Once I book a job, even if it's a small role, I'll still have this little paper that I'll fill out and give him a little background. What does he want? Where's he going?" he explained. "A good story is always good to give him some layers."
But all those bit parts are just steps on the way to Patrick's ultimate aspiration: to be a mainstay on the small screen. "My goal is to be a series regular on a long-running show," said the actor, who counts himself as a fan of Breaking Bad, True Blood, and Downton Abbey. "Then after that if the movie thing turns into a movie thing, that's great too." But for now he's found a home on TV, and he might just surprise a lot of us.
The Haves and the Have Nots airs Tuesday nights on OWN; check your local listings for specific time and channel.
(c)2013 Brittany Frederick. Appears at Starpulse with permission. All rights reserved. No reproduction permitted. Visit my official website and follow me on Twitter at @tvbrittanyf.