Patrick Dempsey Still Undecided About 'Grey's Anatomy' Future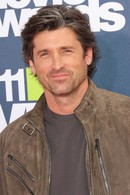 Patrick Dempsey is considering an extension to his Grey's Anatomy contract - if producers can accommodate his passion for car racing and his film career.

The actor has led the cast of the hit TV medical drama for eight seasons, but his contract is up in May and he has yet to decide whether to stay with the show.

But Dempsey insists so-called experts who claim he'll be leaving have it all wrong.

He tells America's TV Guide magazine, "I have a family to support, and why not have a discussion about continuing. The question is will I do a full season, a half season or come back at all?

"There are a lot of things I'd like to do: racing, films... so if I'm able to balance all those things and continue on with the show, why not?"