Patrick Dempsey Raises $1 Million For Cancer Charity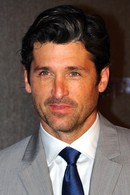 Actor Patrick Dempsey raised more than $1 million for a cancer center over the weekend by hosting a charity bike race.

The Grey's Anatomy star returned to his native Maine to take part in the Dempsey Challenge, a road race and bike ride of up to 100 miles, to benefit the Central Maine Medical Center, where his mom underwent three courses of cancer treatment.

The actor, who set up the Patrick Dempsey Center for Cancer Hope & Healing at the hospital, joined 4,000 other participants for the race, and happily posed for pictures and signed autographs for fans.

Dempsey's sister Mary Dempsey, who is executive director of the centre, tells the local Sun Journal newspaper, "He calls us often and he wants to know what's happening and what we need."

One race participant, Cynthia Martell, says, "I was diagnosed with breast cancer two years ago and I went to Central Maine Medical Center for my care, so I am grateful to Patrick Dempsey. I am here today because of him."