'Pat Benatar: Ultimate Collection' 2 CD Set Released

Pat Benatar
's top hits and signature album cuts have been gathered for a new 2-CD and digital release,
Pat Benatar: Ultimate Collection
, released June 24 by Capitol/EMI. Among the collection's 40 tracks, totaling more than two hours of music, are 20 Top 40 chart hits, including "Heartbreaker," "Love Is A Battlefield," "Hit Me With Your Best Shot," "Fire And Ice," "Invincible," and "We Belong."
Benatar will tour to more than 40 cities across North America this summer, performing her top hits and fan favorites. The tour begins May 16 at Wildflower! Arts & Music Festival in Richardson, TX and includes stops at Detroit's Rockin' On The Riverfront festival and Milwaukee's Summerfest, in addition to headlining concerts in Chicago, Houston, San Francisco and other cities in the U.S. and Canada.
Pat Benatar first burst into international music circles with her 1979 smash, "Heartbreaker." When MTV began beaming into America's living rooms in 1980, the
Buggles
' "Video Killed The Radio Star" was the first music video to be broadcast by the network. Benatar's hit cover of the
Young Rascals
' "You Better Run" was the second. As she sang "We Belong," the decade belonged to Benatar, who took home an unprecedented four consecutive Grammy Awards for Best Female Rock Performance and racked up six consecutive Platinum and three Gold RIAA sales certifications for the nine albums she released between 1979 and 1989, selling tens of millions of albums around the world.
The diversity of Benatar's fanbase today, a global audience encompassing baby boomers and their Gen X and Gen Y descendents, reflects her music's vast and enduring appeal. Her strong yet vulnerable vocal missives, whether hurled or gently swept over her band's solid rock arrangements, sound as fresh and 'now' today as they did when they were first recorded. Pat Benatar has inspired new generations of musicians as varied as her audience, and her music is an essential entry in the American rock canon.
Pat Benatar: Ultimate Collection
(2-CD; digital collection)
Disc 1
1. Heartbreaker
2. I Need A Lover
3. In The Heat Of The Night
4. We Live For Love
5. Treat Me Right
6. You Better Run
7. Never Wanna Leave You
8. Hit Me With Your Best Shot
9. Hell Is For Children
10. Promises In The Dark
11. Fire And Ice
12. Just Like Me
13. It's A Tuff Life
14. Precious Time
15. Shadows Of The Night
16. Looking For A Stranger
17. Anxiety (Get Nervous)
18. Little Too Late
19. The Victim
21. Love Is A Battlefield
Disc 2
1. Diamond Field
2. We Belong
3. Ooh Ooh Song
4. The Outlaw Blues
5. Painted Dessert
6. Invincible (Theme From
The Legend Of Billie Jean
)
7. Sex As A Weapon
8. Le Bel Age
9. All Fired Up
10. Don't Walk Away
11. One Love (Song Of The Lion)
12. Let's Stay Together
13. Payin' The Cost To Be The Boss
14. True Love
15. I Feel Lucky
16. The Good Life
17. Everybody Lay Down
18. Somebody's Baby
19. Every Time I Fall Back (from the TV series "
The Young & The Restless
")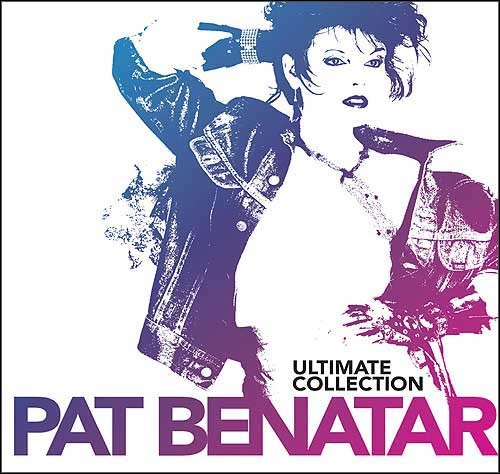 Pat Benatar: Confirmed North American Tour Dates
Fri 06/27/08 Detroit, MI Rockin' On The Riverfront / Renaissance Center
Sat 06/28/08 Joliet, IL Joliet Memorial Stadium
Tue 07/01/08 Milwaukee, WI Summerfest
Thu 07/03/08 Mableton, GA Mable House Barnes Amphitheatre
Fri 07/04/08 Biloxi, MS Hard Rock Hotel & Casino Biloxi
Mon 07/07/08 Clearwater, FL Ruth Eckerd Hall
Tue 07/08/08 Orlando, FL Hard Rock Cafe / Hard Rock Live
Fri 07/11/08 Norman, OK Riverwind Casino
Sat 07/12/08 Fayetteville, AR Arkansas Music Pavilion (AMP)
Tue 07/15/08 Nashville, TN Wildhorse Saloon
Thu 07/17/08 Knoxville, TN Tennessee Theatre
Fri 07/18/08 Chicago, IL House Of Blues
Sat 07/19/08 Goshen, IN Elkhart County 4-H Fair
Mon 07/21/08 Council Bluffs, IA Harrah's Casino - Stir Concert Cove
Sat 07/26/08 Oakville, CA Robert Mondavi Winery
Sun 07/27/08 San Francisco, CA The Fillmore
Fri 08/01/08 Costa Mesa, CA Pacific Amphitheatre
Sat 08/02/08 Primm, NV Star of the Desert Arena
Sun 08/03/08 San Diego, CA Humphrey's Concerts By The Bay
Tue 08/05/08 Saratoga, CA The Mountain Winery
Sat 08/09/08 Aspen, CO Belly Up Aspen
Sun 08/10/08 Colorado Springs, CO Pikes Peak Center
Mon 08/11/08 Beaver Creek, CO Vilar Center For The Arts
Thu 08/14/08 Silverton, OR Oregon Garden
Fri 08/15/08 Tacoma, WA Emerald Queen Casino
Sat 08/16/08 Richmond, BC River Rock Casino Resort
Sun 08/17/08 Coquitlam, BC Red Robinson Theatre
Tue 08/19/08 Medicine Hat, AB The Esplanade
Wed 08/20/08 Regina, SK Casino Regina Show Lounge
Fri 08/22/08 Thunder Bay, ON Thunder Bay Community Auditorium
Sat 08/23/08 Hinckley, MN Grand Casino Hinckley
Sun 08/24/08 Sault Ste. Marie, MI Kewadin Casino
Tue 08/26/08 Verona, NY Turning Stone Resort & Casino
Wed 08/27/08 Jim Thorpe, PA Penn's Peak
Fri 08/29/08 Lincoln, RI Twin River Casino
Sun 08/31/08 Bridgeport, CT Klein Memorial Auditorium
Fri 09/05/08 Coarsegold, CA Chukchansi Gold Resort & Casino
Sat 09/06/08 Rancho Cucamonga, CA Lewis Family Playhouse
-
Pat Benatar Ringtones
-
Pat Benatar Pictures