Partial Event Schedule For 'Rally To Restore Sanity And/Or Fear'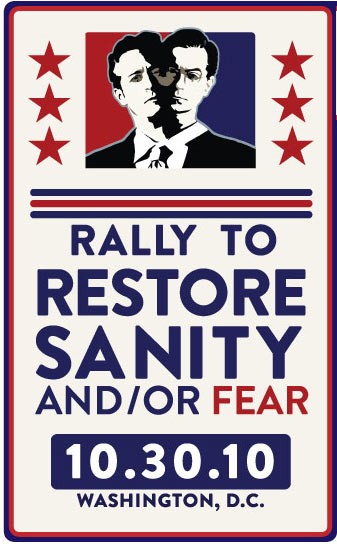 Comedy Central hasn't released any details yet on this weekend's event in Washington D.C. "The Rally To Restore Sanity and/or Fear," but a permit was issued by the National Park Service and made available to the public. In an article by the Christian Science Monitor, they have put together a partial schedule of events from the permit but there are still lots of unknown guests.
Questions have risen that Jon Stewart may "jump the shark" sort of speak, by crossing the line of comedic political commentator to actually participating. Stewart and Colbert are way too smart to fall into that trap. Judging from this partial list of events, it looks to be a fun and entertaining event.
Here is the event schedule post by the Christian Science Monitor:  
"10:00 a.m.: The pre-pre-show begins with videos and music on the jumbotron to keep the gathering crowd friendly and entertained.
Noon: The pre-show starts with a performance from The Roots.
12:40: A comedian (to be determined) warms up the audience.
12:57: A video countdown with a show introduction.
1:00: The show kicks off with the national anthem by a musical guest (to be announced).
1:05: Mr. Stewart welcomes the crowd - whose projected size is ballooning daily. Currently, there are 200,000 sign-ups on the official Facebook page alone.
1:20: Mr. Colbert enters, and two actors - Don Novello and Sam Waterston - perform readings.
1:40: Jeff Tweedy and Mavis Staple perform for 10 minutes, followed by Stewart and Colbert until 2 p.m.
2:15: Sheryl Crow performs for five minutes, followed by speakers and guests (to be determined).
2:30: Musical guests (also still being lined up) come on.
2:40: The show turns to a pre-taped sequence - The Sanity and Fear Awards. (Noting the intense media interest in this event as she reads through the rundown, Ms. Lowe says, "I'd like some sanity, myself.")
To round out the three-hour production, Stewart and Colbert will make their final statements. Then, adds Lowe, "They all hurry up and clean up after themselves." "