'Parks & Recreation' Star Jim O'Heir Talks Comedy (And Some Serious Stuff, Too)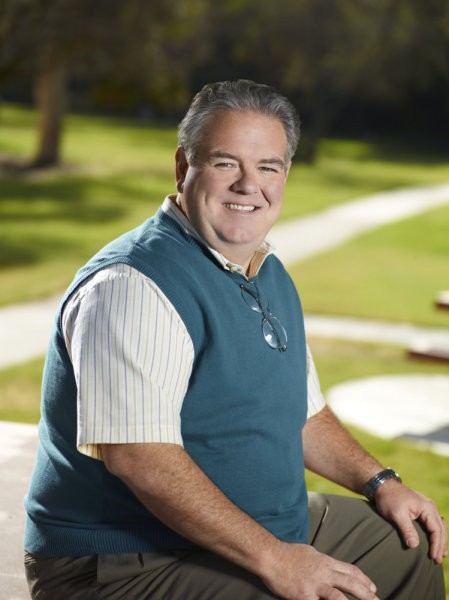 Everyone knows that one person who doesn't necessarily get a lot of attention, but who ends up being way more awesome than you thought they were. On Parks & Recreation, Jerry Gergich is that guy who's been in every episode, often finding himself in awkward situations or being teased by his colleagues. But hard-luck Jerry also has his victories, including a stable family life with three daughters and a gorgeous wife played by supermodel Christie Brinkley. And BFTV recently caught up with the man who plays him, Jim O'Heir, discovering that Jerry's alter-ego is pretty awesome.
"I'm a sitcom watcher all my life, and I think it's one of the rare shows that has really been able to have the mix of everything," Jim said of the NBC comedy, which is now in its fifth season. "The show has so much heart. Everything is not a laugh riot. We're not afraid to have really emotional moments. There's so much care for each other. This group of people really has each others' backs. I love the heart that's in our show."
What's coming up on Parks & Rec? He's sworn to semi-secrecy, but he did tease a pair of things to look forward to. "Ann is trying to have a baby so that is definitely one of the storylines. And there's a very important Jerry storyline that I can't reveal or they'll kill me," he joked. "But there's another Jerry family episode."
Considering the comedic pedigree of the show, are the laughs pretty much automatic, or do they require some work to find that perfect beat? Explained Jim, "Our table reads are generally super-funny. The writing is so strong on this show and the writers have gotten to know the characters so well that they can really write for them. Table reads just stop because of laughter. But an actor can sometimes find things that they didn't even know were there until they start doing it. Many times you're doing a scene and you're playing that, and we'll add to the funny. And the other amazing thing about Parks is they give us a lot of freedom, a lot of room to play around."
The veteran actor first realized he was legitimately gifted in the humor department while training with the famed Second City comedy group. "I always thought I was a funny kid, and I wasn't teased too much because I could always come up with a quick, funny line," he said, "but you're learning improv and you're doing scenes and people are laughing at what you're doing. When I was at Second City, I realized, 'I think I'm funny.' These people were reacting and they had no investment in me."
While he's gained plenty of recognition for playing Jerry, comedy isn't the only thing that Jim has to his name. The former radio DJ has more than a few serious lines on his resume. "The thing with people who do comedy is you sort of get known for that and you love it, but I've had the opportunity to do some dramatic stuff too," he explained. "I did a Diagnosis Murder episode where I was this serial killer and that was awesome. Two seasons ago I did a Castle where I was a sort of crazy butcher. I love the opportunity to do all different types of roles."
That's the quality that makes Jim particularly awesome. It's not just that he's funny or that he's a down-to-earth guy that you could trust to watch your house. In conversing with him, it's obvious that he just really loves entertaining people, no matter what the medium or the type or size of his role. His passion for the career that he's chosen comes through in every sentence. People like Jim are the ones that really make television and film tick, because they're the ones that truly care.
In fact, ask him about the TV shows he enjoys, and he'll give you one heck of a list. "Love The Office. I've been obsessed with it from day one and still love it. 30 Rock killed me that it's gone. I love The Middle; I love Neil Flynn. I love Raising Hope. I'm becoming obsessed with The Following," he said.
Most of all, though, Jim has a tremendous admiration for his costars. "People that I just think are always great, Chris Pratt and Nick Offerman, and of course Amy [Poehler] and Rashida [Jones]. Chris Pratt's about to blow up. The work he does always blows me away. Everybody, they're doing such amazing stuff," he continued. "What's amazing is, no one's too concerned like we'll never work again, but no one knows if we'll ever have this again. The camaraderie and the love on the set of Parks, it's truly special. It's just the perfect combination to make a really great show. Everyone really feels how special this is and questions whether this will happen again in their career."
Speaking of careers, what's going to define career success for this underappreciated actor? "I would like to think when I look back [that] I always handled myself professionally. To be a working actor in this business, you've won the lottery," Jim said. "I'd like to say I was appreciative of that and always worked hard. There's not a day goes by on Parks & Rec that I don't thank God or whomever that this has happened. I want to look back and say that I didn't take it for granted."
There's one other cause close to Jim's heart. "My platform if I had one would be to get people to go to the shelters and adopt animals," he said. "There's just so many animals out there that need a good home." He's funny, he's hard-working, and he cares about animals. What's not to love about this guy?
Parks & Recreation is new tonight at 8:30 PM ET/PT on NBC. You can also keep up with Jim on Twitter (@JimOHeir).
(c)2013 Brittany Frederick. Appears at Starpulse with permission. All rights reserved. No reproduction permitted. Visit my official website and follow me on Twitter at @tvbrittanyf.