Parker Posey And Joseph Gordon-Levitt Discuss Independence At Sundance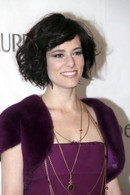 At this year's Sundance Film Festival, Joseph Gordon-Levitt held one of his HitRecordJoe shows. As part of his communal art website, Gordon-Levitt hosts interactive shows which he invites the audience to record, and mixes prefilmed shorts with live activities.
At the Sundance show, Gordon-Levitt invited Parker Posey on stage to discuss independence. Posey, whose film Price Check played at the festival, gave her stamp of approval to Gordon-Levitt's new endeavor. "It's very independent," Posey said. "I approve. As indie queen, I approve."
Sundance fans have known Posey as the indie queen for decades, but Gordon-Levitt didn't know what it meant. "That's what they called me in Time Magazine in 1996," Posey explained. "And it stuck. People can't seem to get over it."
The two actors discussed what it means to be independent and took a suggestion from the audience that it meant being independent of money.
"That's interesting, it is a lot about money, isn't it?" Godron-Levitt asked. "But then again, I've been on some indie sets myself, you really have to pay a lot of attention to money because you don't have that much of it. So you have to pay attention to the money."
Where the money comes from makes a difference, said Posey. "You can get money and make a really cheap movie," she said. "You can, from independent financers who are just giving you money to support artists. This is what was happening in the '90s and I was very fortunate to be a part of that."
Some "indies" are actually studio productions, Gordon-Levitt reminded the audience. For example, his hit (500) Days of Summer was produced by 20th Century Fox's division Fox Searchlight. Posey agreed.
"I don't think of that as an independent movie," Posey said. "The movie I have here, we shot it in 18 days. It was an 18 day shoot and it was under half a million dollars. That is painful when you read a script by a real writer/director who has a real voice and they can't get enough money to share their vision. These are tough times."
But lack of money doesn't automatically make you independent either, said Gordon-Levitt. "But then again there's people who are making movies for very low budgets that I would not call independent," he said. "Even though they're not making a movie for one of the big studios, they're doing it on a very shoestring budget and yet you watch their movie and you're like, 'Yeah, you're kind of just imitating Steven Spielberg.' Not that there's anything wrong with doing that but you wouldn't call that an independent."
This led Posey to take the talk of independence to the more personal realm. "How can we have our privacy?" she asked. "How can we have our independence now in these times with these cameras? Because I think privacy and our solitude is really important."
Gordon-Levitt is empowering individuals to send him footage from their own cameras, and even to film his HitRecordJoe shows. He sees this still evolving. "There's an etiquette that has to develop," he said. "Technology is so new there hasn't really been an etiquette developed."
Seeing Gordon-Levitt's philosophy in action left Poset with a comforting feeling. "This is really interesting tonight because you're sharing the stage with everyone and it's not that big of a deal," she said. "You're crossing the line and it's not that big of a deal."
See footage of HitRecordJoe's Sundance show at www.hitrecord.org.