Paris Jackson Has A Broken Heart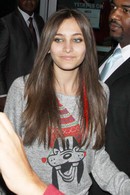 Paris Jackson's love life appears to be getting complicated - the teen has taken to Twitter.com to open up about her feelings, and she seems to be heartbroken.

A week after confessing love tweets between her and aspiring rapper Romeo Hodges were "a joke" and not meant to be taken seriously, Michael Jackson's daughter posted a series of notes on Tuesday morning to followers suggesting she's facing a personal crisis.

She wrote, "Here's to the girls who don't wear 5 trillion pounds of makeup everyday, who only have a few close friends, and who don't get that boy.

"Here's to the girls that fall for the players, the jocks, the nerds, the geeks, and worse, their best friend... Here's 2 the girls who have felt their heart break whether it's b/c (because) of an exbest friend or an exboyfriend which have loved unconditionally... Here's to the girls that wear sweatpants just because they don't care."

She later added, "How do you wake up from a nightmare if you're not asleep?"