Paris Hilton Shares Pics From Her Bikini Calendar Photo Shoot In Hawaii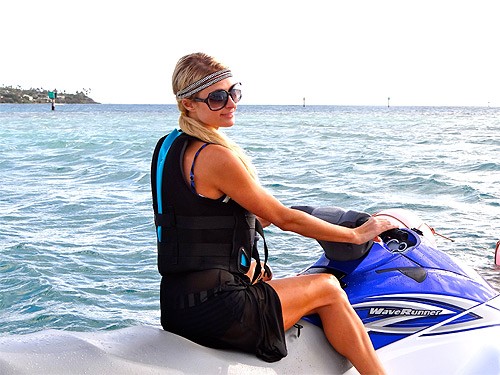 After spending last weekend at the Cosmopolitan hotel in Las Vegas to celebrate little brother Barron's 22nd birthday, Paris Hilton jetted off to Hawaiian paradise.

The socialite/entrepreneur promised via her Twitter page that she'd be sharing lots of photos from her trip to Maui.

"Aloha! Greetings from #Hawaii! Going to post you all pic's from my trip," she tweeted on Wednesday. "Like my bikini?"

Paris wasn't in Hawaii just to relax though, she was there to shoot her new 2012 bikini calendar.

"Loving all the hot bikinis I'm wearing. Love photo shoots in #Hawaii! #YES!" she says.

After the shoot she spent some time shopping at Juicy Couture, Forever 21 & Sephora before heading out to the club to dance all night to a set from DJ Afrojack.

But despite "having the best time in Hawaii. Love relaxing, walking on the beach, jet skiing & just chilling out," Paris' trip was short-lived as she flew back to Los Angeles to be with her family on Thanksgiving day.

Check out more pics of paris jet skiing ("Jet skiing rocks!") and lounging in her bikini, as she promised...