Paris Hilton Clears Up Rumors That She Flipped Out On Producers Of 'The View' (Video)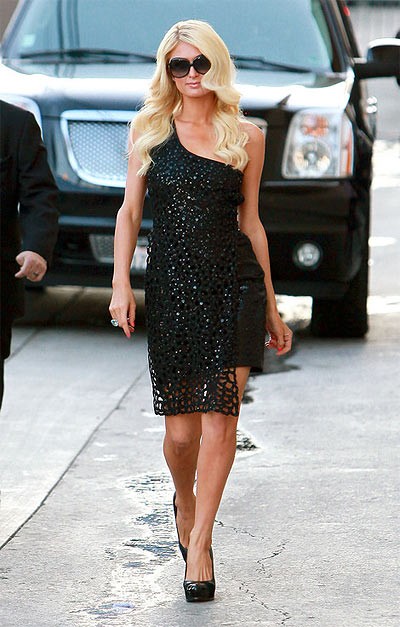 Paris Hilton talked with E! host Giuliana Rancic Wednesday night and cleared up some of the stories that arose after her appearance on The View last week while promoting her new show, The World According To Paris.

During her interview on The View, the show's panel of middle-age women scrutinized Paris for not bringing anything new to the table as far as fly-on-the-wall reality shows go; and they then went on to criticize her for complaining about having to go do her community service - and pretty much saying it sucks. *News flash* - it does suck! It's supposed to suck. If it didn't suck judges wouldn't sentence people to do it. Isn't the whole idea of community service supposed to be a form of punishment?

After the show's segment, reports claim that Paris flipped out on producers backstage, but during the interview with Rancic Paris denies any fight with producers. In fact, she thinks the show's hostesses only watched clips of her show and not the whole thing.

"I think they hadn't seen the show they had only seen a clip where I'm complaining about my community service. Then [Barbara Walters] asked me why I was complaining - I was just being honest… you know I'm not going to wake up at six in the morning and be all excited, 'yay I'm doing community service,'" she said.

"I basically said it sucked and I was being honest. I think they were offended by that, but I'm not really sure. But I think it was really blown out of proportion. It wasn't that big of a deal. I wasn't screaming at producers in the back stage, that's not true."

While Paris has been known to do her fair share of charity work along with running her own businesses, she maintained that she does possess a sense of humor.

She says, "When I'm on the show it's supposed to be entertaining and funny, so I'll make silly little jokes. It doesn't mean I'm serious.. I just like to joke around."

When Giuliana asked if Paris is "all good with the girls over there" she replied, "Yeah, of course I've known Barbara for years and I really respect her as a journalist. I know that she has to ask questions like that. I think she should actually watch the show then she'd understand more."

Paris' new show - which debuted on the Oxygen network the day of her interview on The View - received abysmal ratings with a mere 400,000 viewers. Did her interview affect the success of the show? It's difficult to say; however, just to compare - former Danity Kane singer Aubrey O'Day's show (yes, she had her own show), which debuted in March, had higher ratings for its debut, almost double Paris' new show.