Paris Hilton Can Now Add 'Motorcycle Race Win' To Her Resume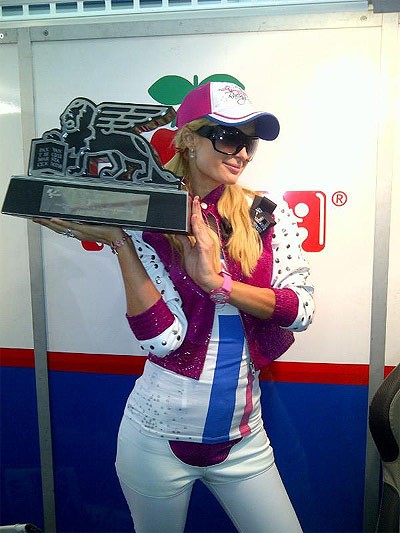 Paris Hilton is celebrating after a member of her MotoGP racing team won the Valencia Grand Prix in Spain on Sunday.

The socialite has expanded her business empire by launching her own motorcycle racing team, called SuperMartxe VIP by Paris Hilton, and she was trackside to watch as Maverick Vinales took first place at the MotoGP championship final.

Hilton shared her delight with fans in a series of posts on her Twitter.com blog and and even posted a photograph of herself posing with the race trophy.

She writes, "OMG (Oh my God)!!! My Paris Hilton Racing Team rider Maverick Vinales just won first place in the MotoGP Grand Prix Finals! Yessss (sic)!!!!! So exciting!... Standing up on the podium at The MotoGP Finals with all the winners felt amazing! So proud of my rider for winning first place! Yes!... So happy and proud of my team!"

Hilton also used her appearance at the event to pay tribute to Italian motorcycle racer Marco Simoncelli, who was killed in an accident during the 2011 Malaysian Grand Prix last month. The star wore a white and pink jacket with Simoncelli's number embroidered in glitter on the front.

She adds, "In honor of The MotoGP legend Marco Simoncelli, I am wearing his (number) 58. You are in all our hearts & minds."