Paris Hilton & Boyfriend Afrojack Hit Miami For The Ultra Music Festival (Pics)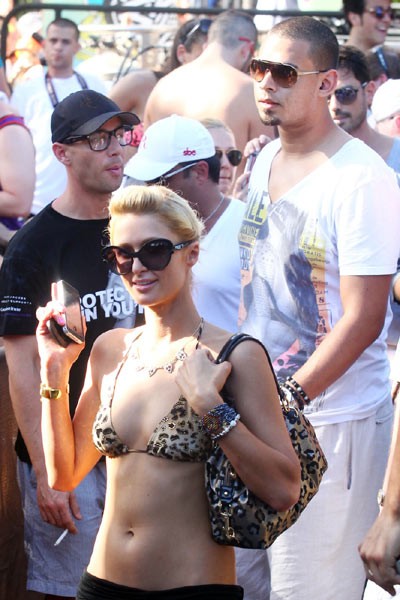 Paris Hilton was spotted partying for spring break in Miami Beach, Florida, on Thursday with her Dutch DJ boyfriend Afrojack. The socialite paired a long black summer dress with a leopard print bikini top and looked sexy as ever.

The couple are in Miami for the Ultra Music Festival, a showcase of electronic dance music taking place in the city's Bayfront Park.

Afrojack, along with Tiesto and Skrillex, played sets on the main stage of the festival on Friday night.

Paris is planning to release a new album later this year, and a leak of one of her new songs, "Drunk Text", hit the web last month, but Paris was quick to stop rumors that it was her new single, dismissing it as just her and some friends "playing around".
She does have new music on the way though; and her boyfriend will be producing some of it.

"I love pop and electronic music, so I decided this next album would be an electro-pop album," she tells Australia's Daily Telegraph.

"I've been working with some incredibly talented producers and artists to create songs that I am really excited about. I am so proud of this album and can't wait to release my first single."

Paris says her new single will be out "in the next few months", and it will include Afrojack along with a few "very special" surprise guests.

Check out more hot pics of Paris in her bikini top on the following pages...