'Parenthood' Premiere Review: Picture Perfect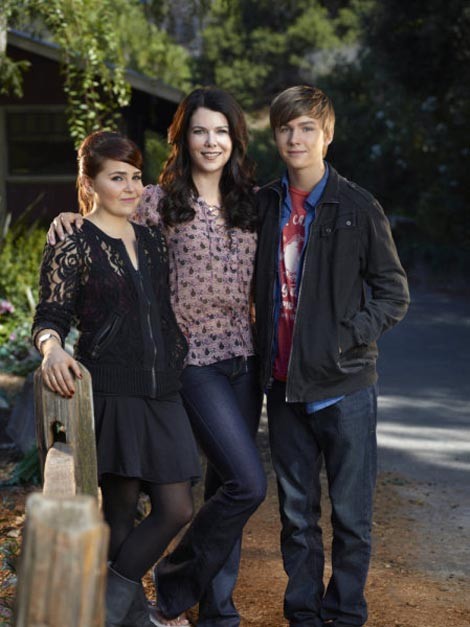 If I was asked to sing the praises of NBC's painfully underwatched family drama, "Parenthood," I would need a Broadway stage, a follow spot, and a metric ton of sparkly confetti, because it's that good.  And the first two episodes of season 4 are tear-jerking, warm-fuzzy proof that it's only getting better with age.  Last summer, the Braverman clan celebrated with a wedding, a proposal, an adoption, and a first time for two teenaged lovebirds.  
In the premiere, aptly titled "Family Portrait," the rose-colored happiness of those milestones wears off, and reality is settles in. Newlyweds Crosby and Jasmine (Dax Shepard and Joy Bryant) are forced to define their nearly muddled and vague religious beliefs for their son.  Adam and Kristina (the equally amazing Peter Krause and Monica Potter) prepare to say goodbye to a moody, college-bound daughter.  Finally, my favorite couple, Julia and Joel (Erika Christensen and Sam Jaeger) struggle with the reality of adopting a fully-fledged child and not a baby that would seamlessly fit into any family.  
The season opener wisely finds a pitch-perfect drama-lite tone while forecasting heavier arcs with a blink-and-you-miss-it finesse you rarely find on television anymore.  This season also welcomes "Men Of A Certain Age's" Ray Romano as Hank, a grumpy, socially inept photographer.  He dives into his character's shortcomings with a eager glee that it's difficult not to fall in love with the curmudgeonly whacko.  And there in lies the rub, because as Sarah (Lauren Graham) pursues a job with at his studio, her fiancé, is currently being left out of the family photo because he and Sarah aren't officially married.  
The best, most endearing story of the season premiere has to be the one deftly handled by Krause's responsible and somehow fun Adam, and the drastic steps he takes to protect his niece Amber (the heartbreakingly gifted Mae Whitman) who's now working at the Luncheonette.  What he does might be cringe-worthy and mortifying, but the reason behind it is nothing less than aww-worthy.  I do hope that irksome Hattie stays at Cornell until the holidays, and that matriarch Camille (Bonnie Bedelia) finds more to do this season than dispense wisdom derived from her stint as a hippie while she dabs paint of a canvas.  While the premiere did lag in spots, I will say without utilizing the SPOILER ALERT! alarm, that the rest of the season aims nastily for the heart, so do not miss the second episode.
Admittedly, the Bravermans might be the most functional family in history, but they do it with such a realistic, squabbling joy that it almost always takes the viewer back to their own flawed clan.  If you watch any show this season, make it "Parenthood" and don't forget the tissues.
Grade: A-
What did you think of last night's premiere?  Hit up the comments section below!