Paranormal Research Group Searches For Vivian Vance's Ghost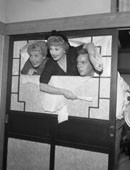 Beloved I Love Lucy star Vivian Vance's former home in New England has become the site of a major paranormal investigation.

The actress sold the Stamford, Connecticut home in the 1960s when she moved to California and although she died of cancer in 1979 on the other side of America, the longtime owners of the old place believe her ghost has returned to haunt them.

And she's not alone - Melissa Leigh, who has lived in the haunted house since the mid-1970s, believes there are a number of spooks floating around the place.

Now, the Norwalk Paranormal Research Group have targeted the home for a ghost busting investigation after determining the old place really is haunted.

Investigator Lisa Harrington tells the Globe, "There is definitely some type of presence (there)... We definitely believe there's something there. Whether good or bad, we're not 100 per cent on that."

Vance played Lucille Ball's sidekick Ethel Mertz on I Love Lucy throughout the 1950s.