Paramount Pictures Planning To Keep 'It's A Wonderful Life' Sequel From Happening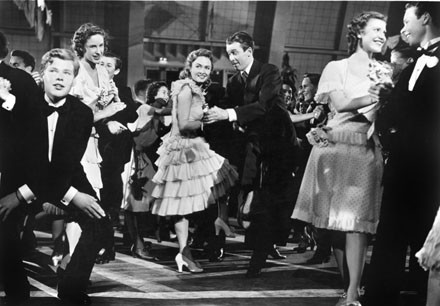 Paramount Pictures released a statement on Wednesday, (thankfully) ensuring that no one will be tarnishing the legacy of Frank Capra's Christmas movie, It's a Wonderful Life.

Earlier this week Variety.com reported that plans for a sequel to the film, called "It's a Wonderful Life: The Rest of the Story," were well under way with a completed script and several of the original cast members set to return and reprise their roles. Filming was planned for early 2014 for a 2015 holiday release, but Paramount says that production companies Star Partners and Hummingbird Productions will have to get past them first -- because they own the rights.

"No project relating to It's a Wonderful Life can proceed without a license from Paramount," a spokesperson said in the statement, according to EW.com. "To date, these individuals have not obtained any of the necessary rights, and we would take all appropriate steps to protect those rights."

The original film centered on a down-on-his-luck businessman (James Stewart) planning to jump off a bridge on Christmas Eve when his guardian angel intervenes and shows him how the lives of those around him would have turned out had he not existed.

The story for the planned sequel followed a very similar storyline: George's daughter Zuzu, played by Karolyn Grimes in the original, would return as an angel to show George's grandson -- also named George -- what life would've been like if he wasn't around.

Grimes even confirmed that she would be returing to the role (she was six in the original), saying that the new film would "retain the feeling of the original."

According to Hummingbird president Bob Farnsworth, who also co-wrote the new script, the rights to the film are in the public domain.