Paramore Unveils 'The Final Riot!' CD/DVD Set; Out Nov. 25

Fueled By Ramen recording group
Paramore
has announced details of their upcoming CD/DVD set, "The Final RIOT!" Filmed and recorded during the band's blockbuster 2008 summer tour, the two-disc package arrives in stores on November 25th. Having traveled nearly non-stop since the release of last year's RIAA platinum-certified second album,
RIOT!
, the DVD set documents Paramore's extraordinary year with ebullient live renditions of hits such as "Misery Business" and "That's What You Get," alongside "40 Days of RIOT!," an exclusive documentary feature from director Brandon Chesbro.
Paramore's latest single, "Decode,"
is featured on Chop Shop/Atlantic's upcoming soundtrack
to the hugely anticipated film,
Twilight
. An instant online sensation, "Decode" premiered on October 1st on
Twilight
author Stephenie Meyer's official webpage,
www.stephaniemeyer.com
, where it has since been streamed well over 2.5 million times. The track has also earned over 2 million streams on the band's MySpace page,
www.myspace.com/paramore
. "Twilight—original Motion Picture Soundtrack" – which also includes a second new Paramore song, "I Caught Myself" – arrives in stores and at all digital retailers on November 4th.
"Decode" has just arrived at multi-format radio outlets nationwide, making a top 40 debut in its first week at Alternative. Having already drawn a radio audience in excess of 2 million, "Decode" officially impacts on October 20th. Furthermore, a companion video clip – directed by Shane Drake ("Misery Business," "crushcrushcrush,"
Panic At The Disco
,
Fall Out Boy
) – has just completed production in Paramore's native Franklin, Tennessee and will premiere shortly.
Currently hard at work writing material for their next album, the Tennessee-based band has just been nominated for the American Music Awards' "2008 T-Mobile Breakthrough Artist Award."

Starting Monday, November 10th, fans can vote for Paramore via T-Mobile text service or by logging into
http://abc.go.com/primetime/ama/index?pn=tmobileinfo
. The 2008 American Music Awards will be presented live on ABC on Sunday, November 23rd at 8pm ET (check local listings).
Paramore – who have just embarked on a two-week tour of Mexico, Brazil, and Chile – are also among the nominees for mtvU's 2008 Woodie Awards' prestigious "Woodie of the Year." Voting is underway now at http://woodies.mtvu.com. As if that weren't enough, Paramore have received a "Rock Out" nomination for the 2008 MTV Europe Music Awards, slated to be presented in Liverpool on November 6th. Fans can vote for Paramore now at
http://ema.mtv.co.uk/vote/#__rock_out
.
Paramore are among the featured artists in Activision's eagerly awaited Guitar Hero World Tour, due in stores on October 26th. A master recording of "Misery Business" is included on the game's main setlist, while frontwoman Hayley Williams is among the playable characters (alongside such icons as
Jimi Hendrix
,
Ozzy Osbourne
,
Billy Corgan
,
Sting
, and others) and the game's very first female character.
"RIOT!" made an explosive chart entry upon its June 2007 release. Boasting two top 5 Modern Rock radio hits in the RIAA platinum-certified "Misery Business" and the gold-certified "crushcrushcrush," the album quickly went on to achieve RIAA platinum certification, with sales now well over 1,000,000. An array of accolades followed, including a "Best New Artist" nod at this year's 50th Annual Grammy Awards, a "Best Rock Video" nomination at the 2008 MTV Video Music Awards, and "Band of the Year" honors from Alternative Press.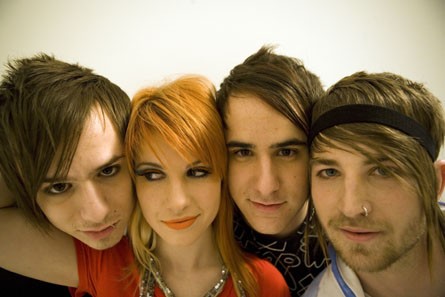 Paramore "The Final RIOT!" CD/DVD Tracklisting:
1. Born For This
2. That's What You Get
3. Here We Go Again
4. Fences
5. crushcrushcrush
6. Let The Flames Begin
7. When It Rains
8. My Heart
9. Decoy
10. Pressure
11. For A Pessimist, I'm Pretty Optimistic
12. We Are Broken
13. Emergency
14. Hallelujah
15. Misery Business
More Paramore:
Official Site
MySpace
Fueled By Ramen
Click the pics for gallery & larger images