'Parade's End' - The Parade Begins On HBO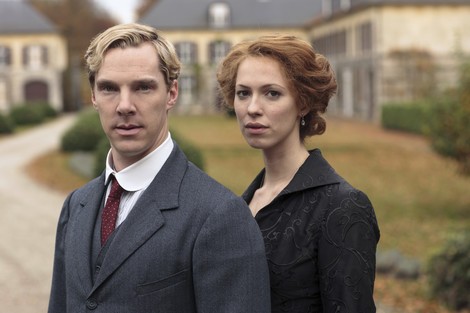 Christopher Tietjens' 'parade' is the code of honor, by which he lives; monogamy, chastity,  and keeping quiet about the things he is shamed by, like his wife's infidelity. For such an honorable gentleman, marriage to Sylvia is an unending heartbreak.
"Parade's End" is a lush, British costume drama starring Benjamin Cumberbatch and Rebecca Hall, set in the early tempestuous years of the 1900's, before and during World War I.
In a railway car in Paris, in 1908, Tietjens meets a young beauty, who seduces him, and claims two months later to be bearing his child. Sylvia, a spoiled, childish, sexual predator, is in fact pregnant by a married man. In Christopher, she sees a man of means who will entertain her. In reality, he is the last of a breed of honorable men, devoted to his family, household staff, and college friends, and so intelligent, he corrects the Encyclopedia Britannica as a pastime.
Three years later, Christopher and Sylvia live with their young son in a townhouse in London. Christopher is a brilliant government statistician, called upon to offer the numbers and information necessary for the ruling class to keep the lower class – and most especially those nasty suffragettes – in their place. Sylvia remains selfish and spoiled, determined to get a rise out of quiet Christopher, who is devoted to their son, but affects indifference to Sylvia's flagrant flirtations.
When Sylvia leaves him for another man, Christopher stoically packs his son up and off to Yorkshire, to be raised by his sister. In the company of his closest friend, aspiring poet MacMaster, he meets a young suffragette, Valentine Wannop (Adelaide Clemens) to whom he is instantly drawn.
But Sylvia's bored with her dalliance and wants to return to him and her home. Although he knows that she is unchanged and unrepentant, his strict moral code makes him take her back, and to deny his attraction to Valentine.
Part One of "Parade's End" introduces the viewer to a lush, glamorous, and long gone period of history, when the old guard began to give way to the new thinking of the Industrial Age. With four parts of this eye candy remaining, look forward to more gorgeous scenery, sumptuous costumes and décor, and a glance back at a time when honor came before self-expression.  
'Parade's End, the HBO miniseries event premiered Tuesday, February 26 and continues Wednesday - Thursday at 9 pm EST.