Panic! At The Disco, Tokio Hotel's 'Automatic', Pee In The Shower, Jo Bros & More (Videos)

Panic! At the Disco
released a new video; one of
Jon Gosselin
's recent 'flavors-of-the-week', Hailey Glassman, shares her Match.com video with us; Brazilians want everyone to pee in the shower; ever try to do a full 360 a swingset? Here's what happens. Also, The
Jonas Brothers
bounce around onstage (one isn't too good at it); Guitar Hero 5 came out yesterday, take a look at the upcoming sequel: Roadie Hero; and videos from
Tokio Hotel
,
Kim Sozzi
&
Paolo Nutini
. Check 'em all out!
Check out
Panic! At the Disco
's latest video, "New Perspective". The song is the first single off the
Jennifer's Body
soundtrack (in stores now).
The much-anticipated thriller, starring
Megan Fox
and written by Academy Award-winner
Diablo Cody
(
Juno
), premieres in theatres across North America on September 18th
"New Perspective":


Funny or Die's latest: Jon Gosselin's girlfriend Hailey Glassman made a Match.com profile video.
"Hailey Glassman Match.com Profile Video":


Brazil, famous for their wax, now want citizens to help save the rainforest by peeing in the shower. We thought most people already did, but apparently they needed to get word out through a public service announcement featuring
Michael Jordan
...
Brazilian Rainforest PSA:


Have you ever wanted to go so high on a swingset that the swing goes all the way around, 360 degrees? Well, here's what happened to someone who did. Someone who may have gotten so excited and held on so tight that his palms got really sweaty. Yes, you know what's about to happen...
The Jonas Brothers have a trampoline on their stage. Turns out Joe might not be that good at it...
Jonas Brothers Flip Out:


You've had the Guitar Hero experience, joined a Rock Band, and traveled the globe in Guitar Hero World Tour. Now, complete that journey with "Roadie Hero"...
"Roadie Hero"


Kim Sozzi
's hit single, "Feel Your Love" recently passed
Lady Gaga
's "Pokerface" as Billboard's Most Played Dance Single of 2009. Here's the super hot video for the top dance track in the U.S., off her album, "Just One Day" - available online and in stores now.
"Feel Your Love":


Tokio Hotel
checked in with MTV's Buzzworthy Blog straight from the video shoot for their new single "Automatic." The guys provide a sneak peek into the cinematic desert-backdrop in South Africa, discuss where they recorded the album and recall Bill's seriously bad night. Check the clip out here and stay tuned for the official video coming soon.
"Automatic":


Go behind the scenes with
Paolo Nutini
on the set of his video for "Coming Up Easy." Follow Paolo and his co-star Harvey the Rabbit as they wander the streets and bars together searching for the meaning of life. The soulful track appears on
Sunny Side Up
which is available now.
Catch Paolo Nutini on his headlining North American tour which kicks off on August 31st in Fort Lauderdale.
"Coming Up Easy" (Making of):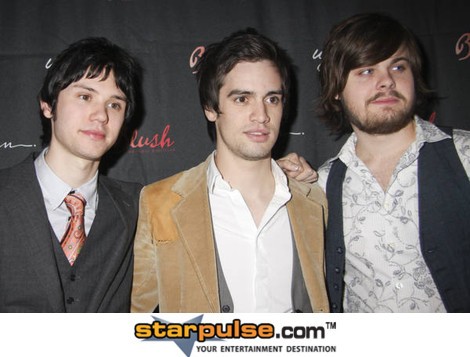 Image © PRN / PR Photos
U2
has just released a six track EP with remixes of their hit single "I'll Go Crazy If I Don't Go Crazy Tonight." The EP includes remixes by Dirty South Full, Fish Out Of Water, and Redanka. The iTunes exclusive EP also includes the David O'Reilly animated video and the Alex Courtes live action video along with a digital booklet. The Dirty South Full remix can be heard now on U2's official imeem page, and right here: