Pamela Anderson Laments Her Relationship Woes In Facebook Poem Following Rick Salomon Divorce Announcement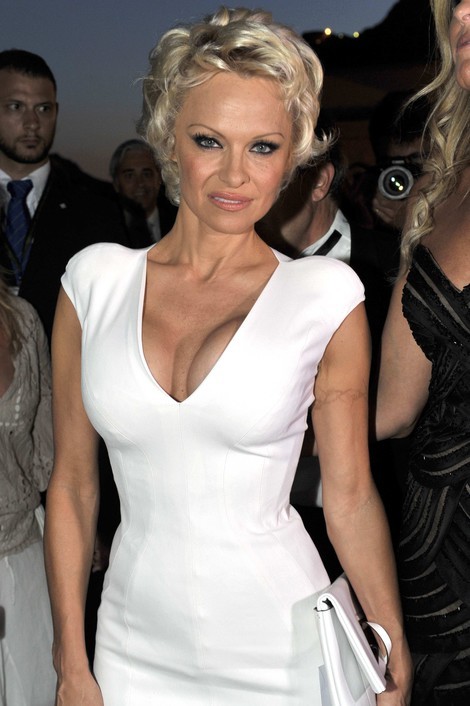 has published a poem she wrote to her Facebook page following news that she filed for divorce from fourth husband Rick Salomon, who she married for the second time back in January.

The actress penned a strange series of thoughts that ultimately asks why she's been so unlucky in love. After all, Anderson has been involved in several on/off relationships in the past.

Here's a few excerpts from her writing, which she posted on Tuesday but says she wrote on July 1.

We do what we want anyway -
behind closed doors--
Our true character, collective complexities.
childish activities -
patterns- genetics? Attention deficit-
- ...SEX ... a lost art-- a sickness--
Perversions-
Lost sensuality -
The cruel smell of orange blossoms...
I love being in love-- but expectations,
make it impossible to be happy-
or satisfied...
I've tried... so hard..
maybe it's not in fashion--
Tradition...just seemed so romantic...,
I guess it's a used up ideal --
for the old fashion...

burning... questions...
No man knows what to do with me--
I blame myself--
To play with me, is eternal--
I'm not 'on the clock' or...
on the 'payroll'--

I knew it was wrong from the start--
primitive-- base instinct..
Never marry a rich man...

Where are the great lovers?-- A lost art...

When did I lose control over my own heart?--
When did I start believing ,
That this is all I'm good for-
against my better judgement--
fell for it- dammit- it all backfired--
It doesn't feel good to be used, neglected, ignored---
controlled....
I'm not doing this---
It's humiliating - I have to turn this around--
Settling is powerless- desperate--
an illusion--

Anderson and pro poker player Salomon -- who is most famous for playing the male lead in Paris Hilton's sex tape, "One Night In Paris" -- married in October 2007 in Las Vegas, but separated just two months later. The actress asked the court to annull that marriage on grounds of fraud a couple months later.

Unless the couple had a pre-nup in place, Anderson stands to walk away with half of the $2.8 million Salomon won in the 45th World Series of Poker tournament last week.

Check out Anderson's full poem on her Facebook page.