Pamela Anderson Joins Britain's 'Big Brother'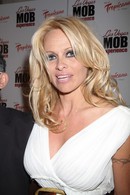 Actress Pamela Anderson entered Britain's Big Brother reality TV show on Friday night for a five-day stint on the program.

The new series of the show, in which competitors are 'locked' in a house together, kicked off on Friday, and 14 contestants entered the compound.

They were given a shock when the shutters into the garden were lifted - and the former Baywatch star was unveiled as their new housemate.

Anderson showered her new pals with hugs and kisses and told them, "We're gonna have so much fun. I'm here for a few days but I'm having so much fun I might stay longer."