Paley Center Unveils 'Television Out of the Box' Exhibit
Attention TV geeks: the Paley Center for Media has something you're going to want to see.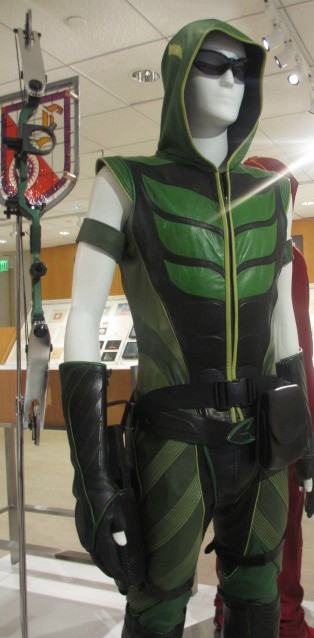 Long known as a hub for all things small-screen related (dating back to when it used to be called the Museum of Television & Radio), the Beverly Hills museum recently opened "Television Out of the Box," an exhibit devoted to celebrating decades of Warner Bros. television programs.
That includes popular concluded series like ER, The West Wing, Friends, Cold Case, Smallville, Seinfeld, and Deadwood, as well as current series such as Pretty Little Liars and Southland.
On my recent visit, I was able to relax on the Central Perk couch from Friends and give my best speech at the Press Secretary's podium from The West Wing.
I also got to check out props that were used on one of my favorite series, Cold Case, and snap the above picture of Green Arrow's (Justin Hartley) costume from Smallville. The comprehensive exhibit has props and costumes that date back throughout the history of Warner Bros. programs, both live-action and their fabled animation department.
Other parts of the exhibit include the chance to sit at a diner table from Seinfeld, and a TV show theme song sing-along where fans can take their best shot at tunes including the one from Fresh Prince of Bel-Air.
The exhibit will be at Paley for the next three years. Admission is $10 for adults with lower rates for students and seniors.
For more information, and hours, visit the exhibit's official Paley Center microsite.