Padma Lakshmi Wears See-Through Lingerie For Playboy, Talks Nude Modeling Past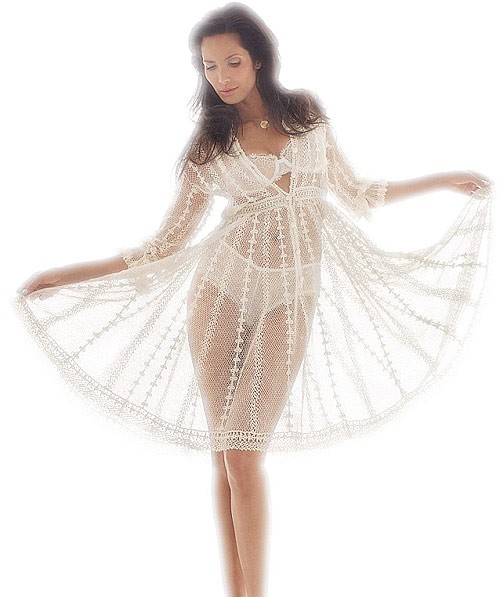 Top Chef host Padma Lakshmi steams up the pages of Playboy in a few non-nude photos to accompany her 20 Q feature in the December issue of the magazine.

The sexy Indian talks about food, men and posing nude in the issue. She also reveals a few of the secrets behind her hit Bravo show, like how dhe's not allowed to talk with any of the contestants unless the camera is rolling. So when Playboy asks if any of the aspiring chefs on the show ever hit on her, she kind of wishes they did.

"Well, you know, everyone has a little crush on their fourth-grade teacher. It fades, she says. "But because this is a game show, the chefs are not allowed to talk to me unless it's on camera. It's an FCC thing. Honestly, I don't know a thing about these chefs while we're shooting. I don't know their last names. I don't know if they're married or gay. I don't care. But if an innocent chef tries to chat me up, a producer will walk up and say, 'Please step away from the judge.' Where's that guy in my daily life?

When it comes to food, many wonder how she can look so good despite all the food she gets to eat on the show.

"I usually gain between 10 and 15 pounds over six weeks each season. Then I spend 12 weeks working it off," she says. "But it's worth it."

Padma also says that her job has little to do with her own ability to cook, but more with her ability to taste.

"What I am is an excellent taster," she says. "I have an incredibly sensitive palate, which is why I can do what I do. If you saw me chop an onion, you would be highly unimpressed. But if I taste a dish, I can usually replicate the ingredients.

"And if I kissed you, I could probably tell what you had for lunch."

Padma hasn't done a nude shoot for the magazine, but she has done some nude modeling in the past -- particularly for legendary photographer Helmut Newton, who was obsessed with the scar on her right arm, which she got from a car accident when she was 14-years-old.

"Yes, it was [difficult posing nude for the first time]. In fact, I canceled on Helmut Newton at first," she says. "And no one ever canceled on Helmut. I got cold feet. He called to book me again six or seven weeks later. This time he said it wasn't going to be nude—just topless. He said I could put my hair in front, which I did. What he was most interested in was my scar... Beautiful girls are a dime a dozen, and everybody wants to work with a photographer like Helmut. It was the scar that made him notice me. He loved my scar, and by extension he made me think differently about myself.

"All of a sudden it was something to celebrate or at least not to be ashamed of. Everything in life shapes you."

Padma also explains why she stopped modeling, her "real boobs", and why roast chicken is the dish that every man needs to know how to cook.

Check out her full 20Q interview at Playboy.com (the site is borderline NSFW) or in the new issue, on newsstands Tuesday, November 20.