Ozzy Osbourne: 'Tony Iommi's Determination Will Help Him Beat Cancer'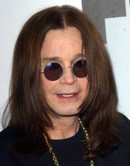 Rocker Ozzy Osbourne is convinced Tony Iommi's natural drive will help him win his cancer battle, insisting his Black Sabbath bandmate has "got more determination than anybody I've ever met".

The 63-year-old guitarist has been diagnosed with the early stages of lymphoma, a cancer of the white blood cells, and he announced the news to fans last month.
 
He's refusing to let the diagnosis halt reunion plans, and he has already started work on the band's comeback album - and Osbourne is supporting his pal in every way possible.
 
Speaking on his SiriusXM Radio show Ozzy's Boneyard, Osbourne says, "He's gonna beat it. What it's down to is determination, and believe me, this guy's got more determination than anybody I've ever met. It's gonna be fine.
 
"It's just one of those trials in life that happen, you know... He's got so much support, not only from each one of us in the band, but the fan base; it's unbelievable. And it's one of them problems you have in life... He ain't gonna die, I'm telling you. I told him if he dies, I'm gonna kill him."