Ozzy Osbourne Still Angry At Iron Maiden's Bruce Dickinson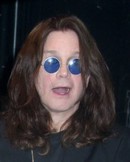 Ozzy Osbourne has aimed a foul-mouthed rant at Iron Maiden frontman Bruce Dickinson - insisting he still hasn't forgiven the singer for their ugly 2005 feud.

The rock stars fell out five years ago while Iron Maiden were performing with Osbourne's Ozzfest tour.
 
Dickinson was accused of criticizing the Black Sabbath star during the shows and Osbourne's wife Sharon was so angry, she allegedly arranged to have eggs thrown at the singer while he was on stage.
 
And Osbourne admits he still hasn't forgiven Dickinson - calling his behavior "childish" and "irresponsible".
He tells The Quietus, "Every night he was going on stage sl**ging me off. And that wasn't fair. If he didn't like the f**king tour, he should have said, 'I'm jumping (off) the f**king tour...' I'd never said a f**king bad thing to him...
 
"Sharon got p**sed off... It was nothing to do with me. I'll back my wife up to the hilt, but I didn't know what was going down (with the alleged egg-throwing). But you know what? (Iron Maiden were getting) a few f**king quid (pounds) out of that Ozzfest. If you've got something to talk to me about, be a man. Come to my face and say, 'I think you're a f**king a**hole.'
"Don't be a f**king idiot. It's so pathetically childish...
 
"To this day I don't understand what the f**king beef (problem) was. I just don't get it... I really think he needs a f**king psychiatrist if he does that, he's f**king nuts. It's an irresponsible f**king thing to do. Sharon must have got p**sed off with this c**t, you know."