Ozzy Osbourne Pulls Out The Classics In 'Osbournes Reloaded'

The economic crisis has even hit rock stars hard.
Ozzy Osbourne
has taken to serving burgers in a drive through window to supplement his music and TV income. Don't worry, fans. It's just a stunt for his new show,
Osbournes Reloaded
.
"Not to my liking, to be honest with you," Ozzy reflected about his hours filming the hidden camera segment. "I didn't get involved in the entertainment business to do fast food restaurants. These people really work."
In tough times, connecting with the working class has made Ozzy appreciate the entertainment empire he's been fortunate enough to build.
"One thing I've learned, I try not to complain too much about people who have to do manual jobs that you would never want to do. Who cleans up, who does dishes? Somebody does that job. I come from a working class background. I've never forgotten that. I've done my share of destroying hotel rooms and all of that stuff. It makes me realize they're still out there and they're still doing them jobs."
Luckily, the format of Osbournes Reloaded allows Ozzy to get some singing in too. No covers, all Ozzy classics. "I decided, at this point I'll only be doing my own stuff. Although, it's maybe two or three songs."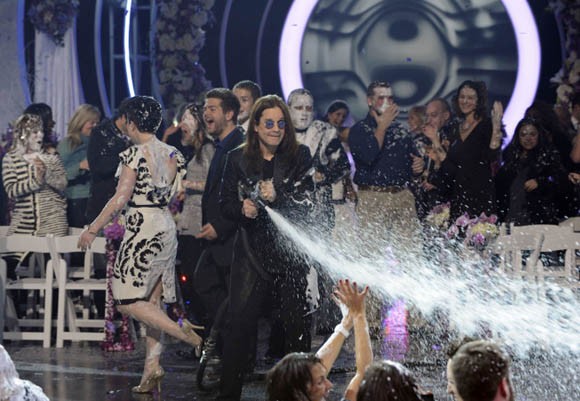 OSBOURNES: RELOADED: Ozzy Osbourne (C) soaks the audience with foam in OSBOURNES: RELOADED premiering Tuesday, March 31 (9:20-10:00 PM ET/PT) on FOX. ©2009 Broadcasting Co. CR: Ray Mickshaw/FOX
Between music, hidden camera, sketches and reality segments Osbournes Reloaded truly is a variety. "We're trying to get a good across the table thing and not having the same thing every week. There will be some things that you will see every week but there's a lot of things you won't as well."
Osbournes Reloaded premieres March 31 on Fox.
Story/Interview by
Fred Topel
Starpulse contributing writer
(Starpulse in Hollywood)
: Every week, Hollywood's biggest stars are meeting in the hot spots and Starpulse is there.