Ozzy Osbourne: 'I Told Kelly She'd Regret Her Tattoos'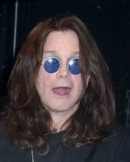 Ozzy Osbourne tried to talk his daughter Kelly out of collecting tattoos - because he knew she'd grow to regret them.

The rocker opens up about his past concerns while giving advice to a worried mom in his advice column for music magazine Rolling Stone.

The Connecticut mother wrote to the former Black Sabbath star and expressed her feelings about the fact her daughter wanted a huge spider tattoo on her back and asked the rock star for his thoughts.

Osbourne writes, "I remember when my daughter Kelly wanted tattoos. I said, 'Take it from me, you'll grow up to regret it,' and lo and f**king behold, she now regrets it."

"It's all well being a hot chick with ink, but when you're 60 and your spider's all faded and wrinkly, trust me, you'll wish you'd never had it done."