'Oz The Great And Powerful' Is Not Great, But It's A Lot Of Fun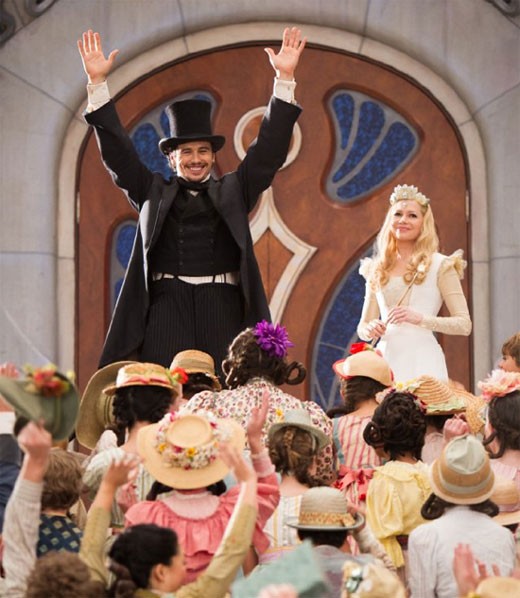 'We're off to see the Wizard...The Wonderful Wizard Of Oz'...except...
In Sam Raimi's 'Oz The Great and Powerful' he's not exactly wonderful or a wizard.
In fact he is Oscar Diggs (James Franco) a 3rd rate circus magician/con artist, who escapes from Kansas in a hot air balloon, only to land in the beautiful, magical Land of Oz.
There, Oscar meets the beautiful witch Theodora (Mila Kunis) and her older sister, Evanora, (Rachel Weisz) who rules over the Emerald City.
When the sisters mistake Oscar for the wizard that the prophecies foretold would come one day and save Oz from the forces of evil; our guy thinks he's struck gold.
Well actually he has.  Seems Oz is filled with gold, a lot of gold - enough to make Oscar a billionaire several times over.
Of course, nothing is simple for our con man. It doesn't take long for the sisters to become suspicious of him.
Now in order for Oscar to claim the riches of Oz, he must convince Evanora and Theodora that he is indeed a true wizard and can save the people of Oz from the darkness closing in on them.
 
This takes Oscar on a journey both inward and outward. Lucky for him, he has Glinda, aka The Good Witch (Michelle Williams) to help him find out just what kind of man he is.  
'Oz The Great And Powerful' written by Mitchell Kapner and David Lindsay-Abaire, imagines the origins of the beloved wizard character first brought to life in author L. Frank Baum's book 'The Wonderful Wizard Of Oz.
Shot in 3D, the film has familiar characters as well as some new ones. They include an adorable porcelain child called China Girl (voiced by Joe King) and Finley (voiced by Zach Braf ), a winged monkey who accompanies Oscar on his journey through Oz; serving as his sounding board and conscience.
I really enjoyed 'The Oz The Great And Powerful' which opens in theaters Friday March 8, 2012.  I thought it was total fun and a great family film. For that reason gave it 4 bagels out of 5.
Check out our video to for John's thoughts and his bagel score. Also love to know whom you agree with.
Please SUBSCRIBE to our channel on YouTube and LIKE us on our Two Jews on Film Facebook page.