Owen Wilson's Friends Dismiss Karina Smirnoff Dating Reports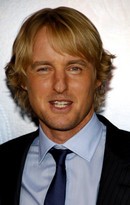 Movie star Owen Wilson's friends are laughing off reports suggesting he's dating dancer Karina Smirnoff, insisting the pair has only met once - at a party.

New tabloid reports suggest the Dancing With The Stars regular and the Midnight in Paris star have become an item after splitting from their respective partners, baseball star Brad Penny and Jade Duell, who gave birth to Wilson's son, Ford, last year.

But sources insist the rumors are completely unfounded.

One insider tells WENN, "This is false. She (Smirnoff) was introduced to Owen at a party. I don't think that qualifies as dating."

A spokesperson for the actor says, "We don't comment on clients' personal lives."