Owen Wilson Wants Lady Gaga For 'Zoolander' Sequel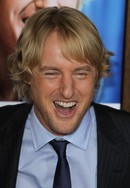 Lady Gaga could be set for her first big movie role - Owen Wilson is considering her for a part in the Zoolander sequel.

Wilson and Ben Stiller are eager to work on a follow-up to the hit 2001 comedy, and are hoping to release the second installment in 2012.

And Wilson, who starred opposite Stiller in the original movie, reveals the Poker Face hit-maker is in line to play a female pal of model Derek Zoolander.

He says, "Gaga has to be in it. The movie will happen soon. I just saw Ben and I think that people will be happy with some of this new stuff we have."