Owen Wilson Remembers Paul Newman Making 'Cars'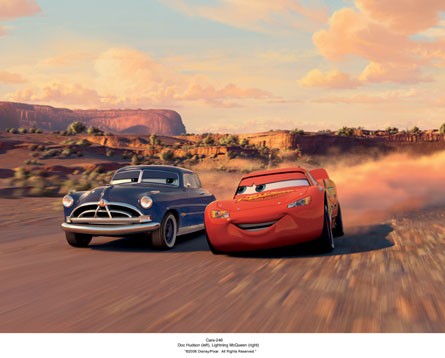 Owen Wilson returns as the voice of Lightning McQueen in Cars 2. Unfortunately, since the original Cars, Paul Newman passed away. He was the voice of Doc, and Doc is now gone from the world of Radiator Springs. Wilson remembered his costar fondly while promoting the sequel.
"On the first one I did get to work one day with Paul Newman," Wilson said. "We went to New York and got to record with him and it was great. He actually had some questions about, 'I don't know if this would really...' because he was so knowledgeable about racing. And then John [Lasseter] took what he was saying and went back and re-worked the script based on something that Paul was saying."
It's unusual for voice actors to record together. Usually they each do individual sessions in the studio, and sound editors put the dialogue together. After the rare treat of working with Newman, Wilson got to spend some social time with him too.
"Then I met him when we did the promotion for the movie. We went to one of the [racetracks]. We went to Lowe's Motor Speedway in Charlotte and Jimmy Johnson was there. He interviewed Paul and me, and then Paul said he wanted to take one of the cars for a spin around the track. I asked the race car drivers how's he doing and they said, 'He's great.' I didn't drive with him, but then they drove me around. That was unbelievable because it felt like we're going in to make this turn, and we're bracing because you know from your years of driving you're not going to be able to make this turn at the speed that you're going. It takes a while for your brain to realize, 'Okay, this is a different type of high performance car than my Prius is.'"
Cars 2 opens June 24.