Outkast: In a Class of Their Own

As one of the hottest rap groups out today,
Outkast
has etched a mark in hip-hop history as perhaps the best rap group ever. They're in fair competition, however, with groups like
A Tribe Called Quest
and
EPMD
riding dutch. These groups, by coincidence, never took to transforming the perceptions of what many outside the South considered as nothing special into worthy rhyme sayers, putting Atlanta on its back and giving listeners something to nod to.
Outkast's
Andre 3000
and
Big Boi
came together as a group in 1991 and signed to Laface Records in 1992. They were the label's first hip-hop group, and with the pressure rising as the first, they didn't disappoint.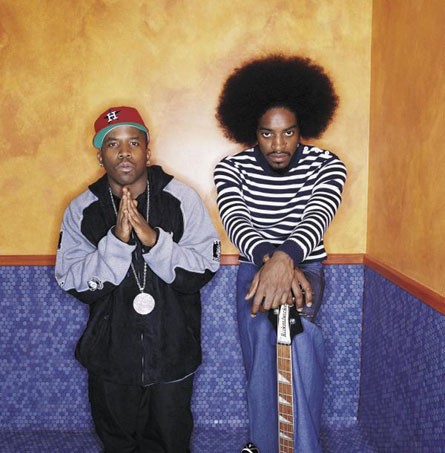 "
Southernplayalisticadillacmuzik
" dropped in 1994, and the first single, "Players Ball," introduced the Georgia natives to a curious West and East coast style crowd courtesy MTV, BET and radio. Fans had a chance to see these guys lay rhymes that had substance. They were building a legion of believers in what they were saying and at the same more than likely helped push the mass movement towards many moving to ATL.
Atlanta seemed to be the spot during the '90s. With major labels paying attention to the untapped talent that reigned in the city and the Falcons corner Deion Sanders swamping TV with smooth commercials,
TLC
delivering
Crazy, Sexy, Cool
and the 1996 Olympics putting the spotlight on the city even more - ATL came off as a very fresh city. For Outkast, it was home and the energy driving the tone behind the album that catapulted them as the "Best Rap Group" at the 1995 Source Awards.
Today, no longer thrown in the category of just another rap group, they are a music group that touches on just about every genre of music, including experimental, funk and pop.
They've released seven albums and don't show any signs of slowing down. There was a small scare when Andre was considering leaving the group to pursue other realms of entertainment, but his feelings eventually subsided and the group got stronger. Currently, they both act and have appeared in several movies that include "
Four Brothers
," "
ATL
" and "
Idlewild
." For two childhood friends that stuck it out and rhymed over sampled tracks in their spare time, they showed the world what they South had to offer by selling over 20 Million copies and receiving six Grammy Awards - not bad.
Story by
Seneca "The Beast" Doss
Starpulse contributing writer