Out.com Outs The Worst Dressed Gay Men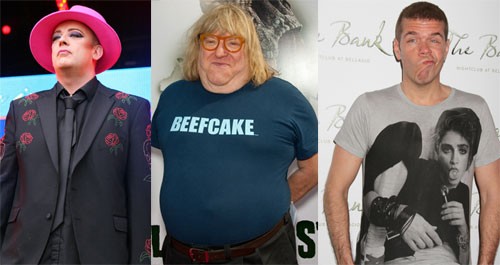 During Fashion Week, Out.com asked readers to rank its list of the 50 most notably dressed gay men as the "Best" or "Worst Dressed." From actors, designers, TV personalities, and athletes, nearly 3,000 people weighed in on whom they thought pulled it off, and who just needs to pull it off and try again.

In the race for "Worst Dressed" Boy George and Perez Hilton where neck-in-poorly-accessorized-neck for the top spot, with George edging it out by two votes at closing time.
Bruce Vilanch, our favorite Hollywood Square, proudly wore his t-shirt in the third place spot, and Antony Hegarty and his knit stocking cap where no match for skating champ Johnny Weir and his furs, who wound up in the fifth place position.

The rest of the top ten "Worst Dressed" include Pete Burns, designer John Galliano, reality-star designer Jeffery Williams, professional dandy Patrick McDonald, and designer Chris March.
Best Dressed
The top 10 dressed were fashion designer Tom Ford, singer Adam Lambert, designer Marc Jacobs, figure skater Johnny Weir (who wound up on both sides of the poll), actor Zachary Quinto, singer Antony Hagerty, fashion consultant Tim Gunn, talk show host Nate Berkus, singer George Michael, fashion designer Michael Bastian and TV personality George Kotsiopolous.
Check out photos and more on Out.com!
Johnny Weir: