Out of the Driver's Seat: Richard Hammond Talks 'Crash Course' Season 2
As one of the three hosts of the world's biggest motoring show, ​Top Gear​, Richard Hammond has done a lot of cool things behind the wheel. He's been struck by lighting, submerged in water, traveled to the North Pole, and somehow managed to set a car wash on fire. Yet in the second season of his BBC America series, ​Richard Hammond's Crash Course​, he's stepping out from the world of vehicles - and purposely putting himself outside of his comfort zone.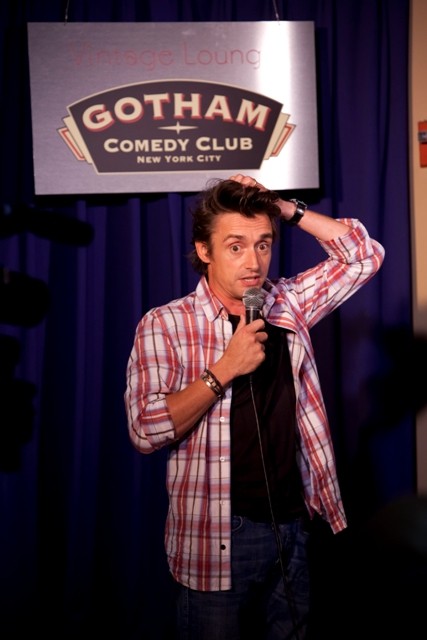 "This season we really threw the whole brief wide open by getting me out of the cab of vehicles and saying, well, let's take on largely iconic American jobs," Richard explained during a recent Q&A session.
"We cast around for jobs that are kind of typically American," he continued, explaining how the roster of occupations he attempts for the second season - including cattle rancher, snake wrangler and New York cab driver - was put together. "It's going to be funny. It's going to take me right out of my comfort zone and that's important. Because if I just sashay in and can do the job easy, that's not entertaining. And the production team had to make me uncomfortable, so we had a lot of conversations saying, 'What aren't you very good at, Richard?' Well, heights...so there's the stuntman doing a stunt fall off a bridge.
"When we were in the early planning stages and the team [was] saying, 'Well, is there anything else that you're really scared of?' I said lots of things but I never confessed my biggest fear is doing stand-up comedy. Because I'm a TV host, I'm in control. I know the words. I know where the cameras are. I can do that job. I've done it for 24 years. To be a stand-up comic, that's kind of taking what I do but twisting it where you can't go out armed with a subject. You can't go out armed with other people. It's just you. You're standing there saying 'I shall now be funny and entertain you.'
"I didn't suggest that. They did. And the moment they suggested it from my huge silence they knew they'd got me and I knew I had no choice. I was doomed. I was going to find myself on a stage. And I truly found myself onstage doing stand-up - which terrified [me] but [was] tremendously exhilarating as a result."
Although ​Crash Course​ has again put Richard's neck on the line with things like stunt falls, bullfighting and snakes, "The only [job] that I warned them [about] was the stand-up comic one," he said. "I told them you're going to have to bar the windows or I will climb out and run away. There were a few that I was close [to turning down]. Certainly the stuntman one - jumping off the bridge, I hated that. And [the] bullfighting episode, because I didn't want to be killed.
"But it's all onscreen. It's very real. And we talk a lot about reality TV or whatever category you want to do, but I would say that all of these shows in this whole season, they're very true. I've been a TV host for way too many years and it's not often as a TV host you get to kind of put yourself across on TV. Most of what I make is about a subject. I do a lot of factual shows where I'm talking about natural history or cars or whatever else and I'm actually presenting them. That's what I'm doing. I present those facts to the audience. This is the first and only time I've ever really kind of being able to reveal anything of myself."
What was his greatest accomplishment in this season of Crash Course? "Just surviving it," he said. "There was a lot of fear, a lot of embarrassment. I am British after all, so I made a fool of myself and felt suitably embarrassed a lot of the time. I'm just watching an early cut of one where I'm an American bullfighter, and I was terrified watching it again because there is a moment when the bull and I had very nearly a nasty coming together. But probably one of the most consistently frightening is the premiere program, which is when I was a stuntman in L.A., because naturally everything they do tends to be terrifying."
The tasks he undertakes have also stuck with Richard, who said that working as a stuntman helped with the aforementioned fear of heights. "It genuinely and absolutely did," he affirmed. "I've just [done] another special for Top Gear [and] there were heights involved and I wasn't alarmed by them.
"I think as well, the stuntmen and women, they have to prepare to do something and they're very used to going to sort of quiet places immediately before they do it when everybody else on the crew is standing there tending to their jobs. You stand there knowing you're about to do something that's you're terrified of and they go to a very quiet and calm place just before they do it. And I have taken that with me. Since then when I've had to do anything - whether it's race a car or jump a motorcycle or do some stupid stunt - I can go into a quiet place on my own, in my head, and then get on with it."
While he continues to broaden his horizons, Richard's primary goal with Crash Course is still to get a better appreciation for America - and for an American audience to get a better look at ourselves. "A thread that goes through all of these programs - the whole season of shows - it's very much holding up America and showing it to itself," he explained, "because it's looking at these jobs through the eyes of a visiting Brit. It's a completely objective platform. For any country it's very difficult to look at yourself because you know it. You have your own preordained ideas about it. You can't step aside and take a look at it realistically and objectively.
"Because all these jobs are done through the eyes of me - a Brit - then it gives you hopefully a refreshing and different view of yourself and it shone through in every piece that we did."
The show places an emphasis on the people who have each of these occupations, not just the how-to of their careers. "Every single job I did, the one thing that shines through [is that] all the people I met doing their jobs were great," Richard continued. "They were each and every one of them an individual - a fascinating individual - taking on a job that was sometimes challenging or unique and difficult - whether they're a cabbie in New York or whether I'm learning how to ride a paddleboard in a downwind competition."
Each Crash Course is only filmed over a few days, and Richard doesn't always get it all perfect, so is there anything he'd like to revisit now that he's completed the second season? "I'd love to have more time at all of them, but obviously the measure of the program is that I only have a maximum of five days to master these jobs," he said. "In each one there were moments when I thought, 'Yes, I've got this' and then moments when I thought, 'You know, I really haven't. It's got me.'
"I'd love to revisit them all, but I think that is what we'll do in the future," he added. "I very much hope people enjoy watching me in my dopey British way trying to master them. It was great fun."
Richard Hammond's Crash Course premieres tonight at 10 PM ET/PT on BBC America. You can keep up with Richard via Twitter (@thehamsterscage). You can also get a sneak peek inside the first episode with my preview and be on the look out for recaps of each episode all season long!
For more from Brittany Frederick, visit Digital Airwaves and follow me on Twitter (@tvbrittanyf).
(c)2012 Brittany Frederick/Digital Airwaves. Appears at Starpulse with permission. All rights reserved. No reproduction permitted.