Our Favorite Girls With Guns

Long before
Angelina Jolie
(or
Sarah Palin
for that matter) ever picked up a gun, hot chicks in movies and TV have been packing heat.
Kate Jackson
(who turns 60 this week!) and the other stars of the original "Charlie's Angels" inspired a generation of girls to feather their hair and kick butt.
Here's our list of the top 15 gun-toting beauties, past and present. Doesn't matter what side of the law they're on. All that counts here is how they look wielding a piece.
See our Girls With Guns Flipbook
here
.
15. Farrah Fawcett, Jaclyn Smith, and Kate Jackson in Charlie's Angels
Jill, Kelly, and Sabrina mostly used their "brains" to solve crimes, very rarely pulling a weapon on their perps. But they weren't afraid to get out their firearms when it mattered most.
14. Heather Locklear in T.J. Hooker
Stacy Sheridan picked up where Charlie's girls left off. She was the '80s version of the hot-chick cop, but she got a little help from William Shatner and Adrian Zmed.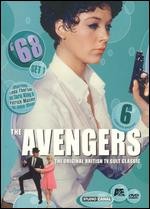 13. Carrie-Anne Moss in Matrix
The Holy Trinity: guns, martial arts, and Keanu Reeves. Now, that's badass.
12. Diana Rigg in "The Avengers"
Emma Peel was given her name because producers wanted a character with "male appeal," or "m. appeal." Newcomer Diana Rigg brought them more than they ever imagined.
11. Vivica A. Fox in Missing
Leather-and-lace-clad Nicole Scott finds missing persons using psychic powers she received after being stuck by lightning. We didn't say it was good . . . just that she was hot.
10. Angelina Jolie in Wanted
Angie's first big blockbuster, Lara Croft: Tomb Raider, brought her international success and a string of gun-wielding hot chick roles, including Illeana Scott in Taking Lives, Jane Smith in Mr. & Mrs. Smith, and Fox in Wanted.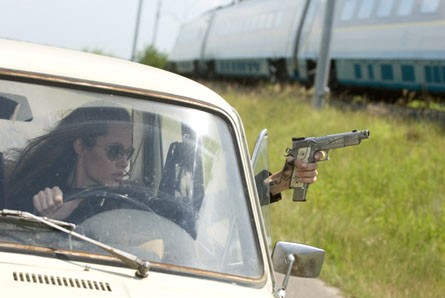 9. Sharon Gless and Tyne Daly in Cagney & Lacey
OK. We know they're not "hot" in the biblical sense, but you have to admit that Christine Cagney and Mary Beth Lacey changed the face of female TV cops forever.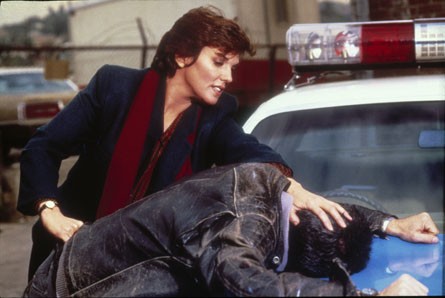 8. Linda Hamilton in Terminator 2: Judgment Day
Now, back to hot chicks. In 1991 no one was cut like Sarah Connor, not even Madonna. But we wager Sarah inspired the whole lot of them.
7. Pam Grier in Coffy
Hot vigilante nurse single-handedly takes on the mob for revenge. And wins.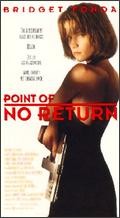 6. Holly Hunter in Saving Grace
Grace Hanadarko's a little messed up. But she flexes her guns and channels her grief by brandishing her firearm as often as possible.
5. Bridget Fonda in Point Of No Return
Maggie Hayward's a government assassin whose weapons include guns, martial arts, high heels, and slinky dresses.
4. Jane Fonda in Barbarella
Sure, Bridget is hot, but she doesn't hold a candle to Aunt Jane in Barbarella, who hunts down mad scientist Duran Duran in skimpy space suits.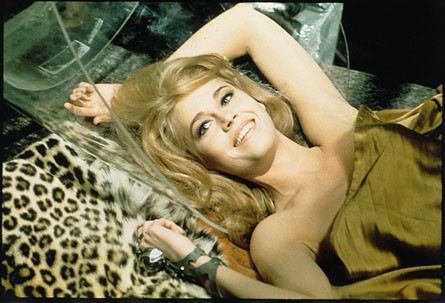 3. Pamela Anderson in Barb Wire
Anderson plays Barb Wire, nightclub owner/bounty hunter in spandex and thigh-high boots. But don't call her babe.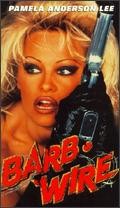 2. Elizabeth Hurley in Austin Powers: International Man Of Mystery
Hurley was first noticed for her "acting" as Vanessa Kensington in Powers. Just goes to show you: give a girl a gun, and she can make you believe anything.
1. Raquel Welch in Hannie Caulder
Raquel plays a VERY scantily clad widow looking for revenge on the outlaws who killed her husband and left her for dead. Who needs clothes when you can wield a gun like she does?
Drop by
GetBack.com
for your daily dose of pop culture pleasure — music, movies, games, and more.
By Amy & Nancy Harrington,
GetBack.com