Our Favorite Canadian Actors

Given that the United States and Canada closely share days of pride in their country on the calendar, it seemed only logical to single out the many wonderful people that our neighbors to the north have proudly shared for all to enjoy. Following are some of the many comedic, talented, and gorgeous celebrity men and women that call Canada "home."
THE GENTLEMAN
Dan Aykroyd

Born in Ottawa, Ontario on July 1 (Canada Day!), Aykroyd's face has been seen on many a movie screen. He started his comedy with Second City Stage Troupe in Toronto and moved on to pursue an acting career at Carleton University. From there he began acting in major films alongside major stars from
Jamie Lee Curtis
to
Adam Sandler
. His acting brought him an Academy Award nomination for Best Supporting Actor in
Driving Miss Daisy
. Most notable for his hilarious stint on
Saturday Night Live
, Aykroyd was also remembered for his character, Elwood Blues, in
The Blues Brothers
with the late
John Belushi
.
Jim Carrey

This funny man was brought into the world on January 17 in Newmarket, Ontario. His slapstick and over-the-top humor is most apparent in…well…everything he does! While he played one heck of a Grinch in
How the Grinch Stole Christmas
, he also has a very serious side to him. Sure, the
Ace Ventura
and
Lloyd Christmas
side of him is hard to forget, but his roles in
Eternal Sunshine of the Spotless Mind
and
Man on the Moon
reminded folks that, golly, Jim Carrey is actually an ACTOR!
The Cable Guy
and
Lemony Snicket
aside, Jim Carrey has the right bang for the buck.
Phil Hartman

May 28, 1998 was a sad day for many fans that enjoyed Phil Hartman. Born on September 24 in Brantford, Ontario, Phil Hartman played a major role during the classic years of SNL and was the heart of
Newsradio
. Hartman also frequented
The Simpsons
as the fading actor Troy McClure. What many don't know about Hartman was his part-time work as a graphic artist. He created many cover-albums for mainstream rock bands, from Poco and Firesign Theatre to
America
and
Crosby, Stills & Nash
. On May 28, his intoxicated wife Brynn shot him multiple times. He was remembered on the 25th Anniversary SNL show in 1999. Adam Sandler gave Hartman the nickname "Glue" because Hartman had the incredible ability to work well with others and keep many episodes together.
Michael J. Fox

Born in Edmonton, Alberta on June 9, Michael J. Fox became a household name during the 80s with his character Marty McFly in the
Back to the Future
series. He also won three Emmy Awards and one Golden Globe Award for his work on the show
Family Ties
, and one Emmy, three Golden Globe Awards, and two Screen Actors Guild Awards for his work as Mike Flaherty on
Spin City
. Fox was diagnosed with Parkinson's disease in 1991, but wasn't outward about it until 1998. He retired from acting in 2000 after the symptoms of the disease became too much for him to control. Fox is extremely active in advocating research on the disease, creating his own foundation called the Michael J. Fox Foundation.
John Candy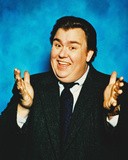 This lovable actor was born on October 31 in Toronto, Ontario. John was known to play lovable losers and characters with big hearts but bad luck. His breakout role was playing the brother of
Tom Hanks
' character in
Splash
, but his more comedic roles include
Uncle Buck
,
National Lampoon's Vacation
, and appearing on SNL (not once, but twice). He also played a number of supporting roles in goofball films from
Spaceballs
to
Planes, Trains & Automobiles
. He also played a washed-up Olympic bobsled coach, helping form a Jamaican bobsled team in
Cool Runnings
. Despite his best efforts to avoid the line of heart attacks in his family, Candy died of a heart attack on March 4, 1994.
THE LADIES
Rachel McAdams

On October 7 in London, Ontario,
Mean Girls
star Rachel McAdams was born. She first thought that pursuing theater would be "a bit of a joke", but graduated with honors from York University with a B.F.A. in theater. Her first on-screen appearance was on the Disney series "The Famous Jett Jackson", followed by bigger roles, including
The Notebook
. She is currently dating
Ryan Gosling
(a fellow Canadian), whom she met while working with him on the set of that film. McAdams also starred in
Red Eye
.
Catherine O'Hara

Who could forget Kate McCallister, mother of Kevin in the
Home Alone
movies? Born on March 4, in Toronto, Ontario, O'Hara began her career doing voice-overs for several cartoons. Notable films include
The Nightmare Before Christmas
(the voice of Sally),
Beetlejuice
(as Delia), and
Best in Show
playing Cookie Guggelman Fleck. Her career has far from slowed, and with many project either in the works or on the way, O'Hara is likely to be seen for a long time to come.
Carrie Anne Moss

Born on August 21, in Vancouver, British Columbia, Moss' first interest in "the biz" was modeling. She moved to Europe to pursue it, but ended up in Spain with a regular role on the show "Dark Justice". The show was moved to Los Angeles in 1992, and has been acting since. Aside from playing Trinity in
The Matrix
, Moss played a character on a TV show called "Matrix" in 1993. She also worked with
Joe Pantoliano
(Cypher from "The Matrix") in the 2000 film
Memento
. Moss had a string of film and television appearances in 2007 and also 2008 including the films
Fireflies in the Garden
and
Disturbia
, and the TV show "Suspect."
Caroline Rhea

Born in Montreal, Quebec on April 13, Rhea was on 142 episodes of "
Sabrina, the Teenage Witch
" as Sabrina's Aunt Hilda Spellman. Rhea has played a number of small comedic roles from Bonnie on "
The Drew Carey Show
", and Candi in the film
Christmas with the Kranks
. She had a small role in "Man on the Moon," and has been doing a number of voice roles so far this year on the "Phineas and Ferb" show on the Disney Channel. Rhea is also a regular on "Hollywood Squares."
Pamela Anderson

Another Canada Day birthday (July 1), Pamela was born in Ladysmith, British Columbia. She was discovered in a very extraordinary way. While attending a British Columbia Lions football game, 21-year-old Anderson was shown on the stadium wide screen wearing a Labatt's t-shirt and the crowd went wild. Literally. She was brought down to the 50 yard line to be introduced and received an immense amount of applause for her beauty. She was approached by Labatt's with a modeling contract and became their "Blue Zone" girl. The success of the ad campaigns did not go unnoticed by Playboy Magazine, and has appeared on the cover an amazing five times. Anderson had a successful role as C.J. Parker on "
Baywatch
" and Lisa, the Tool Time Girl on "
Home Improvement
." Her hectic schedule with both shows caused Anderson to leave the latter to pursue the former. Anderson was formerly married to
Tommy Lee
from
Motley Crue
, and
Kid Rock
. She's not only blonde hair and boobs. Anderson writes a regular column for Jane Magazine and has a laundry list of charitable work, specifically for PETA (People for the Ethical Treatment of Animals). She has appeared in a number of slapstick films from
Scary Movie 3
to Scooby-Doo.
Story by
Kristin M. Koltz
Starpulse contributing writer