Otep Announces U.S. Tour Dates To Coincide With Release Of New Album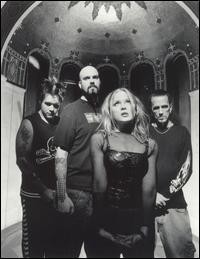 Otep
have just started their U.S. tour dates in support of the just released third album
The Ascension
. The band enlisted producer Dave Fortman (
Mudvayne
,
Evanescence
) for the record and also called on Grammy nominated guitarist Greg Tribbett (Mudvayne,
Hellyeah
) to co-write three songs.
Otep are currently working on the videos for two songs from the album, "Confrontation" and "Breed," to be directed by P.R. Brown (
Smashing Pumpkins
,
James Blunt
).
To date, Otep has sold over 400,000 units and the band has challenged themselves to avoid clichés and classifications and find a new landscape of sound and vision with
The Ascension
.
Frontwoman Otep Shamaya observes, "It's easier for people to curse the darkness than to light a candle. I prefer to do the opposite.
The Ascension
is a message to rise above whatever limitations, obstacles, or social identities are placed upon us."
The Ascension
is also a natural progression from 2004's House of Secrets, as Otep relates: "As with any offspring, you're going to see the genetic traits of its parents. So in
The Ascension
you're going to see the DNA combination of
Sevas Tra
and
House of Secrets
, but as with any child, it's going to have its own experiences, its own identity and its own behavior. I think fans will hear that it's a true blending of the first record and the second record, a powerful spawn of those two striking creations, but also feel the excitement of something brand new and mysterious." With regards to her process and art, Otep notes that "I hope that there's some vulnerability, honesty and authenticity, but at the same time, presented in such a universal way that I can find myself in it as well. I hope our work provokes, motivates and inspires-that's the definition of art for me."
The tour is called the
Balls Volume Strength Tour
and finds the band performing alongside Hellyeah and
Bloodsimple
. The tour kicks off in Detroit, MI at The Fillmore and wraps up on December 7 at The Palladim in Worcester, MA.
Don't miss your chance to catch the musical and emotional powerhouse known as Otep.
Dates are as follows:
11/03 - Minneapolis, MN - First Ave
11/04 - Chicago, IL - House of Blues
11/06 - Sauget, IL - Pop's
11/07 - Kansas City, MO - Uptown theater
11/09 - Denver, CO - Fillmore
11/10 - El Paso, TX - Cohen Coliseum (KLAQ show)
11/11 - Phoenix, AZ - Marquee theater
11/13 - Santa Ana, CA Galaxy
11/14 - Los Angeles, CA - Key Club
11/16 - Ventura, CA - Ventura theater
11/17 - Las Vegas, NV - House of Blues
11/20 - Amarillo, TX - Midnight Rodeo
11/21 - Dallas, TX -- Palladium
11/23 - Oklahoma City, OK - Diamond Ballroom
11/24 - Houston, TX - Meridian
11/25 - Abilene, TX -- Crossroads
11/27 - Memphis, TN - New Daisy Theater
11/28 - Atlanta, GA - Roxy Theater
11/30 - Tallahassee, FL - Floyd's Music Store
12/01 -- Tampa, FL - Jannus Landing
12/02 - Orlando, FL - Hard Rock
12/04 - Norfolk, VA - NorVa
12/05 - Baltimore, MD - Ram's Head
12/07 - Worcester, MA - The Palladium
12/08 - Hartford, CT - Webster Theater
12/09 - New York, NY - Fillmore (Irving Plaza)
12/11 - Peoria, IL - East Peoria Convention Center
12/14 - Wichita, KS - Cotillion (KICT Christmas show)