Oscars Preview: 'King's Speech'… For the Win?!!
Only a few weeks ago, it was all golden for David Fincher's study of greed in our modern,  technological world, The Social Network. It had taken the majority of the Oscar predicting awards for Best Picture (including the Golden Globe), and it seemed to be completely unbeatable in the upcoming finale to the awards season, the Oscars.
But then, The King's Speech, the constant second place finisher to Social Network's champion, started winning everything. It began with the Producer's Guild Award, which raised an eyebrow; but, I was willing to pass that off as older Hollywood showing preference for a more traditional film as opposed to the decidedly different Social Network. I assumed that result would flip again when voting was opened up to younger members of the Hollywood establishment.
Then, King's Speech won the Director's Guild Award for Best Picture and the Screen Actor's Guild Award for Best Cast (SAG's equivalent of Best Picture) and suddenly, King's Speech went from the film likely to give "Mr. Darcy" an Academy Award and became the clear favorite to win big on Hollywood's biggest night.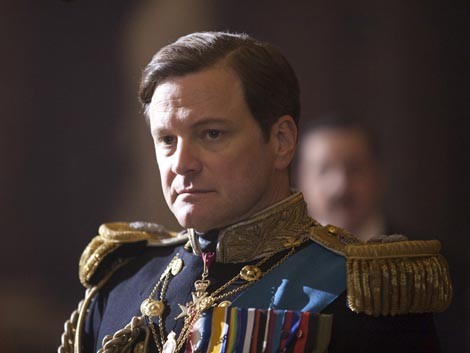 So, why the switch? What happened to derail Social Network's award-winning train in favor of King's Speech little engine that could? As I mentioned in my previous post on this subject, winning an Academy Award has a lot to do with marketing, backroom meetings, who-knows-who, P.R., and various other things that have nothing whatsoever to do with the actual films. So what I feel happened to grant Colin Firth an Oscar for Best Actor for King's Speech, Tom Hopper an Oscar for Best Director for King's Speech, and the film itself an Oscar for Best Picture, is that the film's mysterious, never-seen and rarely mentioned but vitally important P.R. people got that older part of Hollywood to show their remaining strength by giving all their support and pushing for everyone else to give the same to a more traditional type of Best Picture winner at the expense of the more unusual choice, Social Network.

As for the other major categories:
Writing: Neither Christopher Nolan nor The Social Network will go home empty handed, as Inception wins Best Original Screenplay and Aaron Sorkin takes Best Adapted Screenplay for Social Network.
Lead Actress: Annette Bening is again going to lose to a younger actress, as Natalie Portman takes the award for her dark turn in Black Swan.
Supporting Actor/ Actress: The Mark Wahlberg produced, real-life Rocky, The Fighter tops both of these categories as Christian Bale gets recognition for being one of the most talented actors in Hollywood today, and Melissa Leo gets recognition for a career that's almost as old as some of her co-stars.
Keep in mind, these are just my opinions and theories. I don't know anything for certain, including who will actually win Sunday night, and I am far from a Hollywood insider, so please don't take my words as gospel.