Oscars Honor Angelina Jolie, Steve Martin And Angela Lansbury At Governors Awards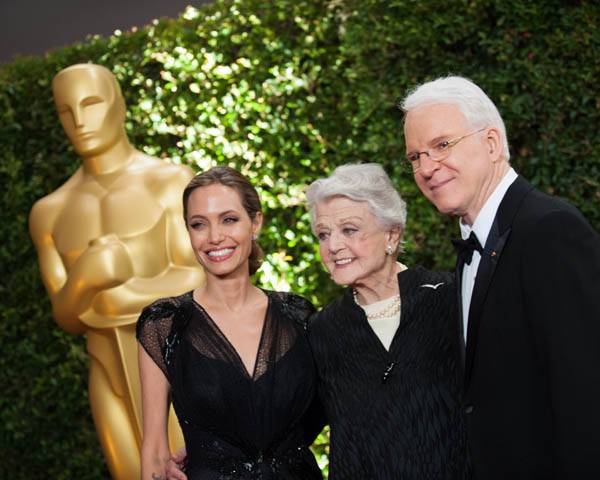 The Academy of Motion Picture Arts and Sciences held its annual Governors Awards presentation at the Ray Dolby Ballroom in Hollywood on Saturday, officially kicking off awards season. The big recipient of the night was Angelina Jolie, who was awarded an honorary Oscar for her humanitarian work throughout her career.
Funny man and three-time Oscars host Steve Martin was also presented with an honorary award, as well as 88 year old actress Angela Lansbury and costume designer Piero Tosi, 86.
When presented the Jean Hersholt Humanitarian Award from director George Lucas, the 38 year-old Jolie reflected on her "sheltered life" in her youth and the events that changed her outlook on life.
"When I met survivors of war and famine and rape, I learned what life is like for most people in this world," Jolie noted.
"I realized how sheltered I had been," she added, "and I was determined to never be that way again."
Steve Martin had some fun with the celebrity packed crowd and joked, "this is the highest honor an actor can receive in mid-November. I can't possibly express how excited I am tonight because the Botox is fresh."
Angela Lansbury's film career spanned some seven decades and was best know for the TV series "Murder She Wrote." She was nominated three times for a best supporting actress role, yet never won an Oscar. Lansbury seemed relieved and honored by the award.
Famed Italian costume designer Piero Tosi was not in attendance for the ceremony but his award was accepted by actress Claudia Cardinale.
Check out some more photos from the star studded night on the following pages.