Oscar Roadtrip Finally Reaches The Red Carpet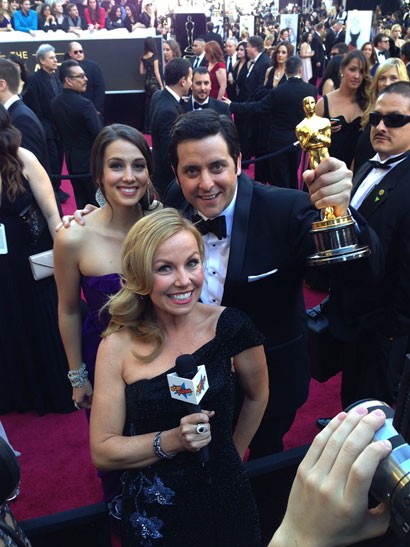 This year, The Academy of Motion Picture Arts and Sciences took the Oscar out to the people to build excitement around the Academy Awards. The called the adventure Oscar Roadtrip where Angie Greenup and Ben Gleib traveled to over 11 cities in February to show off Oscar. They started in New York and hit other cities like Washington, D.C. where they visited the Pentagon, and Houston for the NBA All-Star Game.
I caught up with them in the middle of their roadtrip in Chicago where I had the opportunity to hold Oscar #3111 and take a photo or two for my scrapbook. On Sunday, Feb. 24, we were all reunited on the red carpet where Greenup and Gleib gave me the inside scoop on what they had been up to post-Chicago.
What until you hear where Oscar has been and who they were excited to meet: