Oscar Producers: 'James Franco & Anne Hathaway Personify Next Generation Of Hollywood Icons'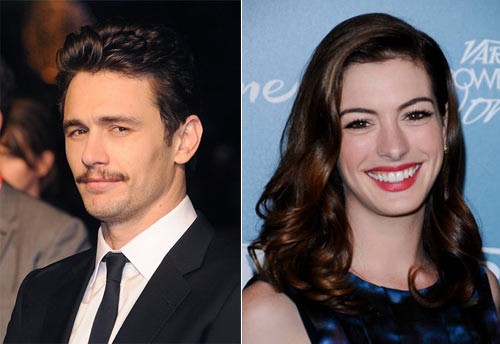 It's that time of year again--time to announce the Academy Award host. I hear the groans already. Before you fire off a letter to the Academy of Motion Picture Arts and Sciences, you need to understand one thing. The Academy does not choose the host, it is the job of the Executive Producers to find the perfect host for the show. Did you stare at the TV screen hoping for a laugh from Steve Martin and Alec Baldwin last year? Blame Adam Shankman and Bill Mechanic. Were Jon Stewart's two trips to the host podium a bore for you? Well, that was a Gil Cates decision twice over.
Yesterday, Anne Hathaway and James Franco were picked to host the 83rd Annual Academy Awards in February 2011. Is this an inspired choice? No. It is a decision made to appeal to younger voters and a plea to turn the sinking ratings of the show around. Here's what this year's Executive Producers, Bruce Cohen and Don Mischer, had to say:
"James Franco and Anne Hathaway personify the next generation of Hollywood icons— fresh, exciting and multi-talented. We hope to create an Oscar broadcast that will both showcase their incredible talents and entertain the world on February 27," said Cohen and Mischer. "We are completely thrilled that James and Anne will be joining forces with our brilliant creative team to do just that."
The most exciting thing about this choice isn't the stars themselves, it is the possibility of the drama behind two possible nominees/hosts. For Academy darling, Anne Hathaway, she is looking for a nod for Love and Other Drugs while James Franco is literally knocking out audiences with his performance in 127 Hours. Two nominations would be the best thing to happen to this telecast.
While I am still partial to Ellen DeGeneres as my favorite host of the last ten years, I don't think anyone will top the classics like Bob Hope, Johnny Carson,and Billy Crystal. Their performances cannot be matched and they came during an era of fewer distractions, fewer channels, and less technology. Regardless of the hosts, I will be covering all of awards season from inside the trenches. As a former media guide at the Kodak Theatre, I have some great insider scoop to share with you as the season progresses.